Multiple Online Accounts – Shopping for the Best Line
April 27, 2014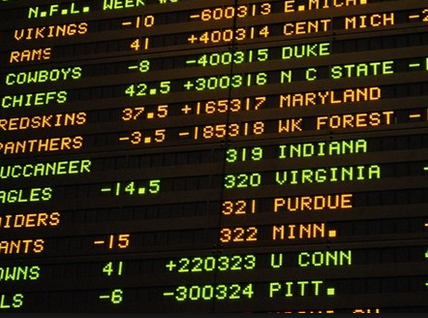 I was talking to a friend recently that was looking for some advice on how to make money betting on sports. I gave him the usual advice about betting responsibly, researching teams, don't bet with your heart, etc. My final piece of advice was perhaps the most important; join at least 2 online sportsbooks. Why did I give him this piece of advice? Let me explain…
Always have access to the best lines
Let's say you like the Cowboys at –3.5 versus Green Bay on BetOnline and are ready to place a wager. Then you check the line at Sports Betting Online and notice the Cowboys are –3. If your only online sportsbook account is BetOnline, you'll have to take Dallas at –3.5. But if you also have an account on Sports Betting Online – or another site with the same line – you will get more favorable odds.
"But it's only half a point…"
The difference between winning and losing or winning and pushing is, in many cases, one point. In the above scenario, you would need the Cowboys to win by 4 points or you lose if you wagered on BetOnline. If you placed your bet on Sports Betting Online, you only need them to win by 3. What's the big deal? In football, that's actually a big point. The most common football score multiples are 7 and 3 (i.e. 17-14, 21-7, etc.).
More often than not, if you are going to win on a game that is –3, you will win at –3.5. However, 1 out of 10 or so, you will lose because of the half-point difference. Don't think that 1 out of 10 is a big deal? Think again. One additional loss in every 10 games could be the difference between winning big and not winning much. Being able to shop around for the best lines is a HUGE advantage. Oh, and here's another advantage to signing up for multiple online sportsbooks…
More free money!
I like free stuff. Who doesn't? Each online sportsbook gives out free money based on how much you deposit. They will match your deposit up to a certain amount, usually between $300-$600. The smart online sports bettor will take advantage of the free money by joining multiple sites. If you deposit $600 into one account, $600 into another and $600 into a 3rd account, you have $1,800 deposited and $1,800 of free money. If you deposit $1,800 in just one account, you only get $600 worth of free money and access to betting lines from one sportsbook.
But really it's mostly about getting the best lines
Don't get me wrong, I love me some free stuff. I'm one of those dudes that will take advantage of any opportunity to receive something free. But the real advantage comes from being able to shop for the best lines. This is very important. You really have no reason NOT to sign-up for at least a couple of online sportsbooks. It doesn't cost anything to join.
Whether you bet online or in Nevada casino sportsbooks, shopping around for the best lines is a smart play. Point spreads from one sportsbook to another are almost always minimal, but that small difference is HUGE. It's like hitting a game winning grand slam home run off the foul pole. If the ball went an inch the other way, it would have been a foul ball. That one inch is the difference between winning and losing. Sports betting is a game of inches.
Like free advice columns like this? Use the box below to sign up and get an email alert when we post.
[subscribe2]