What We Can All Learn from the Clueless Auburn Fan
May 6, 2014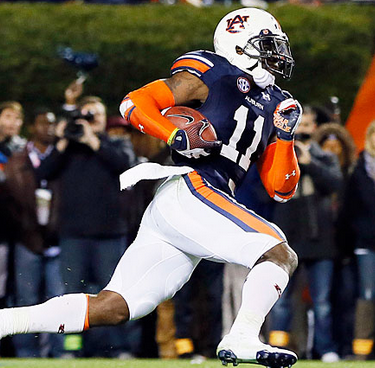 In case you never heard this story, Auburn fan Mark Sibka had a $100 wager placed on Auburn to win the BCS championship. This bet was made prior to the start of the season and Auburn was 500-1 to win. The Tigers pulled off an amazing season that ended in the BCS championship game against Florida State. Had Auburn won the game, Sibka would have gone home with a $50,000 payday. Not too shabby.
Prior to the start of the game, once word got around about this ticket, Sibka was advised to hedge his bet. Smart bettors were telling him to place a wager on Florida State to ensure he goes home with money. But Sibka absolutely refused and decided to let it ride. He is a die-hard Auburn fan that decided he just couldn't bet against the Tigers. What he doesn't realize is he wouldn't have been betting against Auburn had he placed a wager on Florida State. He still would have been able to cheer on Auburn to victory because he would have preferred the Tigers to win as that would have paid off better.
As you probably know, Auburn didn't win the football game. Florida State pulled out a late victory thanks to a great second half by Heisman Trophy winner Jameis Winston. There are casual sports bettors – or just sports fans in general – that will tell you it's not a big deal because he only lost $100. But I would argue he actually lost far more than $100 by not hedging his bet. This isn't a hindsight 20/20 deal here. I said before the game started he was nuts to not at least put some money down on Florida State. By failing to do so, Sibka actually did lose out on thousands of dollars. Remember, because Auburn made it to the championship game, Sibka was guaranteed to make money had he simply placed a wager on the Seminoles. So let's take a look at what we learned from this incident:
Betting on teams you're emotionally involved with is a bad idea
I understand that Sibka isn't a professional sports bettor. His $100 bet wasn't a ton of money either. And he loves his Auburn Tigers. That's fine. But since we are all sports bettors, we need to realize that betting on teams we are emotionally invested in isn't usually a good idea. It's hard to think logically about teams we live and die for. If Sibka had a $100 bet on a team he couldn't care less about, he would have bet heavily on Florida State before the championship game. No doubt about it. His decision to let it ride was based on his loyalty to Auburn. He probably felt dirty about betting on Florida State.
When big wins can be guaranteed if you hedge your bet, you should do it
Sibka didn't have to bet too heavily on Florida State. He would have taken home $50,000 had Auburn won. There's no need to get greedy. What's wrong with guaranteeing at least a $10,000 payday. If Sibka had placed about a $11,000 wager on Florida State, no matter what happened, he would still make at least $10,000. But if his Tigers won the game, he would have made $40,000 ($50,000 – the $10,000 wagered on FSU).
In a recent post, I explained the need for hedging the final leg of a parlay. In that post, I discussed the pros and cons of hedging and not hedging. I firmly believe it's best to hedge a bet when a big win is guaranteed if you do hedge. For small payouts, there's no need for it. But when thousands of dollars are on the line, letting it ride simply isn't a bright idea.