Man Hits $57K Win on $5 Ticket
September 24, 2014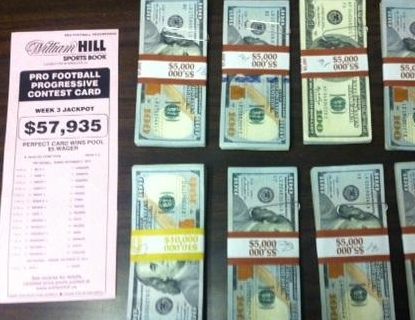 A man from Arizona picked all 15 NFL games right this past weekend to win a $57,000 progressive jackpot offered at William Hill Sportsbook at the Edgewater Hotel & Casino in Laughlin, Nevada. The jackpot is a progressive jackpot meaning the money rolls over week to week until someone wins it.
The Arizona man needed the Bears to win straight up on Monday Night Football to collect the big payout. Word is that he did hedge his chances by also betting on the New York Jets on the final leg.  There was another man in the running for the same jackpot who needed the Jets to win. There is no word on if he hedged his bet as well.
Regarding the winner's hedged bet: "He told the ticket writer that he would have hedged for more, but he had no idea he was the only Chicago winner," William Hill spokesperson Michael Grodsky said.
It would seem picking all the games is something that happens every week but according to the sportsbook, it happens only once or twice a year. The average amount of tickets entered is between 3500-4500 per week. Last year a man won a ticket at the same casino for over $100,000.
The jackpot for next week's contest is $13,950.