NFL Week 9 Betting Round Up
November 4, 2014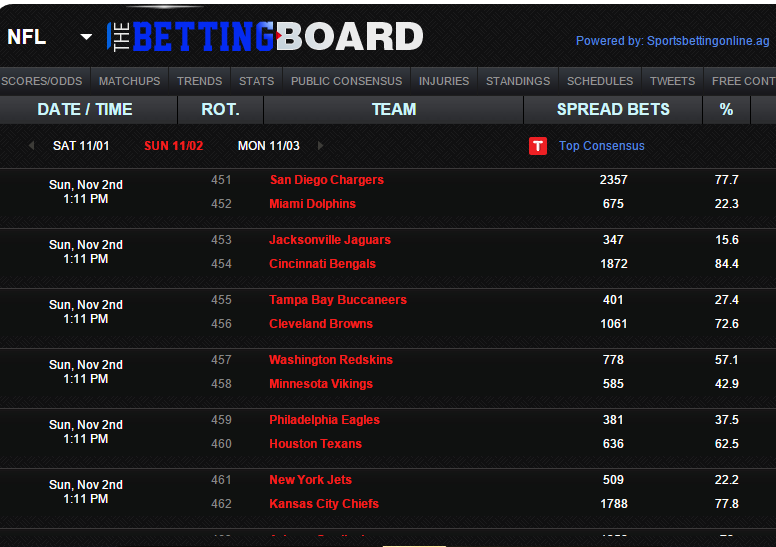 As it turns out the most heavily bet lopsided action of the day went against the public and was never even close. The people at sportsbettingonline.ag say that 2,357 people wagered on the San Diego Chargers vs. only 675 on the Miami Dolphins for a 77%/33% split.  Miami never trailed and never looked back stomping the Chargers and their backers 37-0. The spread had Miami as 2.5 point favorites.
The Cleveland Browns were also heavily bet to the tune of 72% of the public and they were favored by 7 over the Tampa Bucs who managed to keep it very close and only lost by 5 points. Again the public got smashed here.
Bettors were heavy on Kansas City -9.5 over the Jets and that one cashed for them as the Chiefs won by 14 points. 77% of the people that bet this game took the Chiefs. But the handle was much lower than that of the Miami game.
82% (1852 people) of the public was on the SF 49ers to cover 10.5 points against visiting St. Louis. Not only did the 49ers not cover they lost straight up making big paydays for the few that took the Rams moneyline. (+430)
New England was getting an unheard of +3 at home and the betting public was all over it to the tune of 81% (1479 people). New England opened up the proverbial can of woop-ass on Denver in this game winning 43-21.
The sportsbooks gained back some ground when bettors took the Seahawks -13 in a game that only saw them win by 6 points. 83.5 % of the public was on Seattle (1977 people).
Finally the Monday Night Football game saw some lopsided action come in on the Giants. They were +3 at home and people took the points and home field advantage for 67% of the people (only 699 bettors). The sportsbooks capped off a profitable weekend with this MNF gift.  The sportsbooks finished 5-2 in the big lopsided games.