NFL Sportsbook Round Up
November 19, 2014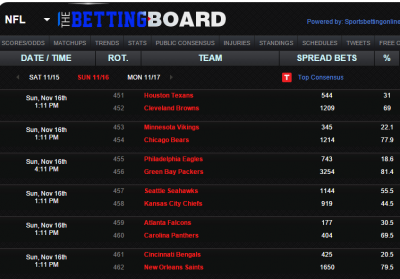 Here is a report of how the sportsbooks fared this past weekend.
The public was all over the Green Bay Packers like a cheap suit. It was not only the most lopsided bet team, but also the heaviest bet game of the weekend. Sportsbooks felt the sting of an 81% (3200+ bets on G.B. alone) public bet favorite. Green Bay was favored by 4 points over the Philadelphia Eagles. It was never close. The Packers smashed the Eagles 53-20.
The public also liked Cleveland -4 over Houston (1209 bets to 544) and Carolina +2.5 vs. Atlanta (404 bets to 177). The Falcons won and covered and the Texans won outright. The sportsbook made up some lost ground there.
Public money also came in pretty heavy on Chicago -2.5 over Minnesota (1214 to 375). Chicago won and covered here 21-13. The public is winning. The Redskins game was also a lopsided bet for Joe Public taking them -6.5 at home (708 to 308). They lost outright.
Finally, the Saints were being bet heavily by the public too (74% 1650 to 425 ) and lost that game straight up at home. If you are counting, that's an even count for the sportsbook and public at 3-3 record but the sportsbooks come out on top (as they usually do) because of the juice and the fact that the Green Bay game was by far the most heavily bet game of the afternoon.