Exclusive BetMania.ag Online Sportsbook Review
April 3, 2015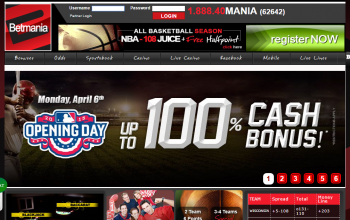 by contributing writer Jon S.
Published in 2015
BetMania.ag  was the second online sportsbook I had the pleasure of testing out. And I'm glad I did. I'm hard to please when it comes to any type of online casino, but I'm especially tough on online sportsbooks because sports betting is my biggest passion. So when I recommend a site, you know it's a good one. Let me start by giving you the basics of BetMania.ag. This is an online sportsbook that also offers different casino games such as slots and blackjack. You can transfer money between your sports betting account and your casino account if you wish. The casino is solid but I really love the sportsbook.
Sign-Up Bonus Information
The first thing we all look for in an online sportsbook is the bonuses we get. I love free money. You love free money. So it's a good thing BetMania.ag  loves to give out free money. Sports bettors receive bonuses throughout the year but during times such as March Madness, they give out even bigger bonuses. For example, the 2015 NCAA Tournament promotion includes a 100% match bonus up to $1,000 and a $50 free bet. Not bad, right?
What Others Say About BetMania.ag
I know a few people that bet regularly on BetMania.ag , so before I got started with the site, I asked them a few questions about what I should expect. They have no connection to the company so I knew I could trust their opinions. Plus, they're total online sportsbook snobs like I am. What I gathered from them was that I should have expected a pleasant experience. And they were right. The only complaints they mentioned were minor and not even worth mentioning. I heard good things about this online sportsbook, and I wasn't disappointed.
Sporting Events on the Board
Have you ever wanted to bet on a game that wasn't on the board at your online sportsbook? I have, and it sucks. Fortunately, I don't think I could possibly find a ballgame I want to bet that won't be available at BetMania.ag. Well, maybe high school swimming, or something like that. This is the list of top sports on the board at BetMania.ag :
NFL
NASCAR
Boxing
Tennis
NHL
PGA Tour
NBA
MLB
Champions League
And more
BetMania.ag Company Information
BetMania.ag is a spin-off of the great BetPhoenix.ag site that provides excellent online gambling options, and has been doing so since 2006. The company operates out of San Jose, Costa Rica. We all know many of the top online gambling companies operate out of there.
The site is very easy to use, and has a solid interface. I never had any problems with the site freezing up or any other glitches. It takes a matter of seconds to place a bet. Even a monkey could figure out how to place a bet at BetMania.ag. They take pride in providing a valuable service to sports bettors and other types of gamblers. It was obvious that customer service is something they work hard at. Most online sportsbooks couldn't give a rip about the customer.
BetMania.ag Review – Conclusion
There are literally thousands of places you can bet on sports online. So you're going to have some tough decisions to make. Who do you trust? Do you trust someone that has never actually joined many online sportsbooks? Or trust someone that has been around the block numerous times? I'm very picky when it comes to online sportsbooks, but this definitely is one that meets my standards. I think your experience will be the same.
For Most current rating on this sportsbook see our sportsbook review grades