2020 MLB Championship Futures Odds
November 1, 2019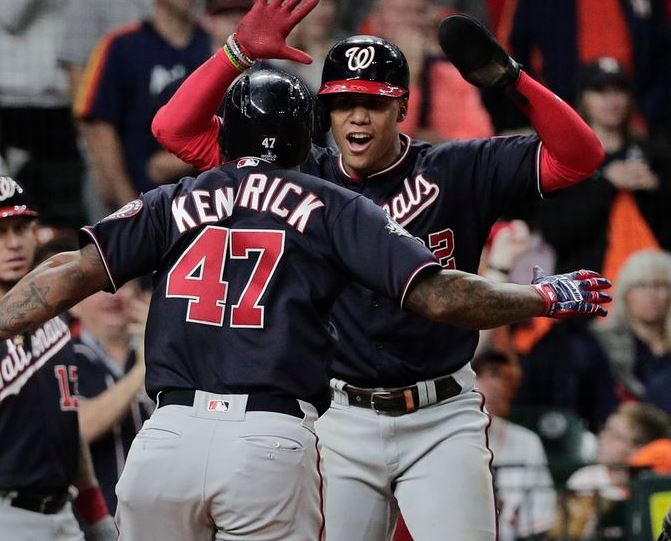 The Washington Nationals pulled off an amazing upset over the heavily favored Houston Astros. The Nationals weren't exactly a long shot at the start of the MLB season but they weren't near the top of the favorites list either.
See 2019 MLB Odds at Start of season
The Nationals were ninth from the top and had odds of +1600 (16/1). There were a report of a handful of people cashing big futures tickets with those exact payout odds.
Sportsbooks made out well on the World Series. Their top three exposures did not hit. The Nationals were their fourth highest exposure.
List of sportsbook World Series Exposure 2019
The exposure list was compiled before the saga of "Mattress Mack". This is the story of 68 year old Houston area businessman Jim McIngvale. He owns a large furniture and bedding business in Houston and promised to give store credit and refunds if the Astros win the series. His liabilities were said to be over $20 million on the promotion. So Mattress Mack hedged his liability by wagering over $11 million (to win $17m+) on the Houston Astros.
Sportsbooks in New Jersey and Mississippi took Jacks bets. He is on record as saying that Las Vegas wasn't interested in his sizable bets. I bet now they wish they were.
Anyhoo, here are the 2020 World Series MLB Champion Odds
| Team | Odds |
| --- | --- |
| Houston Astros | +500 |
| Los Angeles Dodgers | +800 |
| New York Yankees | +800 |
| Washington Nationals | +800 |
| Boston Red Sox | +1200 |
| Milwaukee Brewers | +1400 |
| New York Mets | +1400 |
| Atlanta Braves | +1600 |
| Cleveland Indians | +1600 |
| Minnesota Twins | +1600 |
| Chicago Cubs | +2000 |
| Tampa Bay Rays | +2000 |
| Colorado Rockies | +2500 |
| Philadelphia Phillies | +2500 |
| St.Louis Cardinals | +2500 |
| Cincinnati Reds | +3300 |
| Los Angeles Angels | +3300 |
| Oakland Athletics | +3300 |
| San Francisco Giants | +3300 |
| San Diego Padres | +4000 |
| Arizona Diamondbacks | +5000 |
| Chicago White Sox | +5000 |
| Kansas City Royals | +5000 |
| Seattle Mariners | +5000 |
| Texas Rangers | +5000 |
| Miami Marlins | +10000 |
| Pittsburgh Pirates | +10000 |
| Toronto Blue Jays | +10000 |
| Detroit Tigers | +15000 |
| Baltimore Orioles | +25000 |