MLB Post-Season Odds – World Series Odds – Pennant Odds
September 27, 2020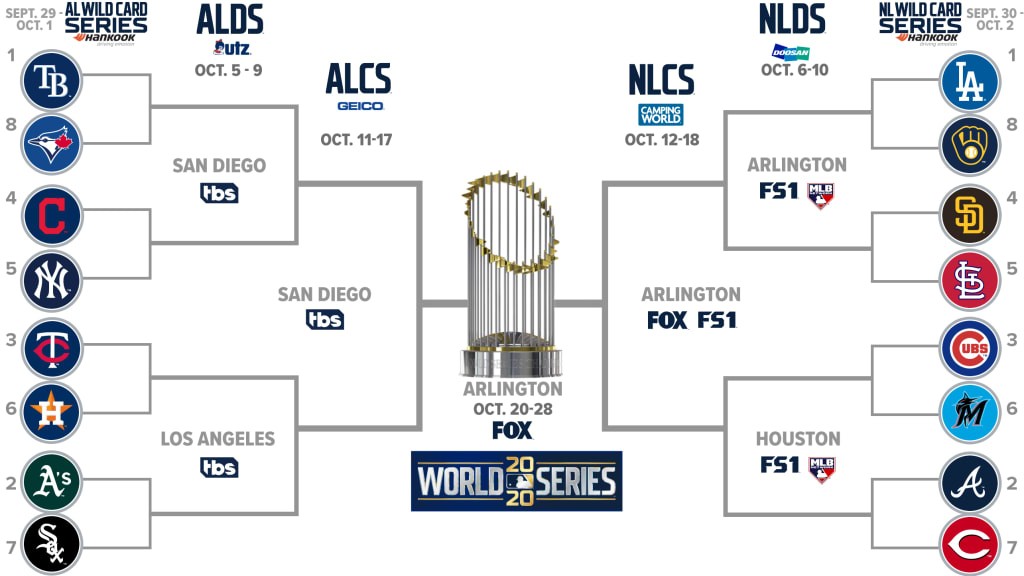 The Covid shortened regular season is in the books. With that the MLB playoffs are expanded to include 16 of the 30 teams. So, almost everyone gets a participation trophy.
It definitely makes things a little more interesting. The first round sees 8 series of best-out-of-three. Tampa Bay being the number one overall seed of the AL is a bit of a surprise for anybody not really following the season too closely. But they have fielded one helluva team and have given division rival NYY Yankees fits. For enlarged playoff bracket image click here
The Chicago Cubs have the unfortunate duty of playing the Florida Marlins, a team that has never lost a playoff series. You probably remember the last time they played one another in the playoffs. After the "Steve Bartman Game" the Marlins went on to win the whole thing.
The White Sox limped into the post-season. After being the team to beat, they couldn't beat a team the final stretch of the regular season (going just 1-7 of their last 8). They better find new inspiration or the Oakland A's will make short work out of them.
NL Pennant Odds
| Team | Odds |
| --- | --- |
| Los Angeles Dodgers | +140 |
| San Diego Padres | +450 |
| Atlanta Braves | +550 |
| Chicago Cubs | +750 |
| Cincinnati Reds | +1200 |
| Miami Marlins | +1600 |
| Milwaukee Brewers | +1600 |
| St. Louis Cardinals | +1600 |
AL Pennant Odds
| Teams | Odds |
| --- | --- |
| Tampa Bay Rays | +325 |
| New York Yankees | +350 |
| Minnesota Twins | +600 |
| Oakland Athletics | +600 |
| Chicago White Sox | +700 |
| Cleveland Indians | +700 |
| Houston Astros | +1200 |
| Toronto Blue Jays | +1600 |
2020 World Series Odds
| Team | Odds |
| --- | --- |
| Los Angeles Dodgers | +300 |
| New York Yankees | +650 |
| Tampa Bay Rays | +650 |
| San Diego Padres | +1000 |
| Atlanta Braves | +1200 |
| Chicago White Sox | +1400 |
| Cleveland Indians | +1400 |
| Minnesota Twins | +1400 |
| Oakland Athletics | +1400 |
| Chicago Cubs | +1600 |
| Cincinnati Reds | +2500 |
| Houston Astros | +2500 |
| Miami Marlins | +3300 |
| Milwaukee Brewers | +3300 |
| St.Louis Cardinals | +3300 |
| Toronto Blue Jays | +3300 |