Best Sportsbooks to Bet the NBA Playoffs
May 18, 2021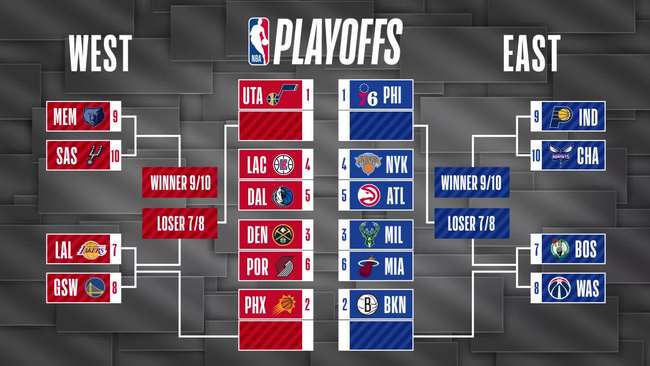 Finding a quality sportsbook to bet on the NBA playoffs this year doesn't have to be a chore. A bit of research and the reading of some reviews will have you on your way to finding the best sportsbooks to bet on this year's NBA postseason.
It's important to understand your needs and wants first and then find the sportsbook or sportsbooks suited to you and your betting style. There are a few key factors you should be looking for.
Before moving on, did you see our article on pre-draft NFL futures?
Betting Variety at the Best Sportsbooks
When it comes to the NBA playoffs, bettors have the opportunity to place a variety of bets. These include the standard moneyline, spread, and totals bets; but NBA playoff bettors want more.
There are the playoff series bets as well as futures bets on conference champs and the eventual NBA champ. Player props are huge during the postseason and, these days, a sportsbook has to have live betting as well.
The live betting feature is one of the big reasons why bettors are choosing America's Bookie as one of their preferred NBA sportsbooks. Featuring the latest in online betting technology, their live betting is one of the best in the industry.
Whether it's live betting, props, or something else; NBA playoff bettors simply want variety. Choose sportsbooks that offer it.
NFL NEWS > POST 2021 NFL DRAFT FUTURES
Banking Options at Online Sportsbooks
Then, there is the money issue. Bettors have to be able to fund their accounts and do so with their preferred method of deposit. For many, that could be a credit card. Others may prefer to work in cryptocurrencies like Bitcoin or even cash transfers.
America's Bookie offers a number of different deposit options. For many NBA bettors, withdrawals are a big issue as well. Some bettors like to access their winnings quickly. AB is known throughout the online sports betting industry as a sportsbook that offers some of the fastest payouts around.
The other thing to look for are bonuses on your initial deposit. You can get a 100 percent deposit match at America's Bookie and enjoy any positive balances in your account in as little as two to four days. Withdrawals by Bitcoin or person-to-person say two to four days but are delivered the next day. Choose the NBA sportsbook that offers the best banking options for you.
Bonuses and Promos
As mentioned, America's Bookie offers a 100 percent deposit match on your first deposit. That isn't the only bonus the sportsbook offers and other sportsbooks offer all sorts of bonuses in an effort to win your business.
In addition to an initial deposit match, America's Bookie offers additional incentives on future deposits. They offer a unique rewards program where bettors receive points for all the wagers they place. In return, bettors can exchange points for things like free payouts and free plays.
Sportsbooks also offer a number of contests for players to part in and win even more. AB, for example, has an NBA Playoff Bracket Contest and an NBA Championship Squares contest. Their contest works where bettors can win half or all of a deposit made during the NBA playoffs.
Bettors looking for the best NBA sportsbooks this playoff season should dig into what bonuses and incentives are being offered. There are a number of ways that bettors can really take advantage of a sportsbook's bonuses.
The Betting Experience
One of the big keys in finding an NBA sportsbook for this playoff season is simply the overall experience. Sometimes, you like a restaurant not so much for the food, though it is good, but for the people, the way they take care of you, and the general atmosphere.
It's the same with sportsbooks. Take America's Bookie as an example. It's not the giant sportsbook that some others are, but you'll be treated like family and the user experience is outstanding.
It starts with a strong betting app. Most bettors these days are using their smartphones to do everything from fund their account to look up odds and place their wagers. The app has to be easy to use and must work quickly when navigating from page to page. Nothing frustrates a bettor more than waiting for pages to load.
In the end, it's the perfect blend of betting variety, banking options, bonuses, and user experience that will determine which sportsbook is the best NBA sportsbook for you this playoff season.