The NFL's Most Dominant Seasons May Surprise You
September 8, 2021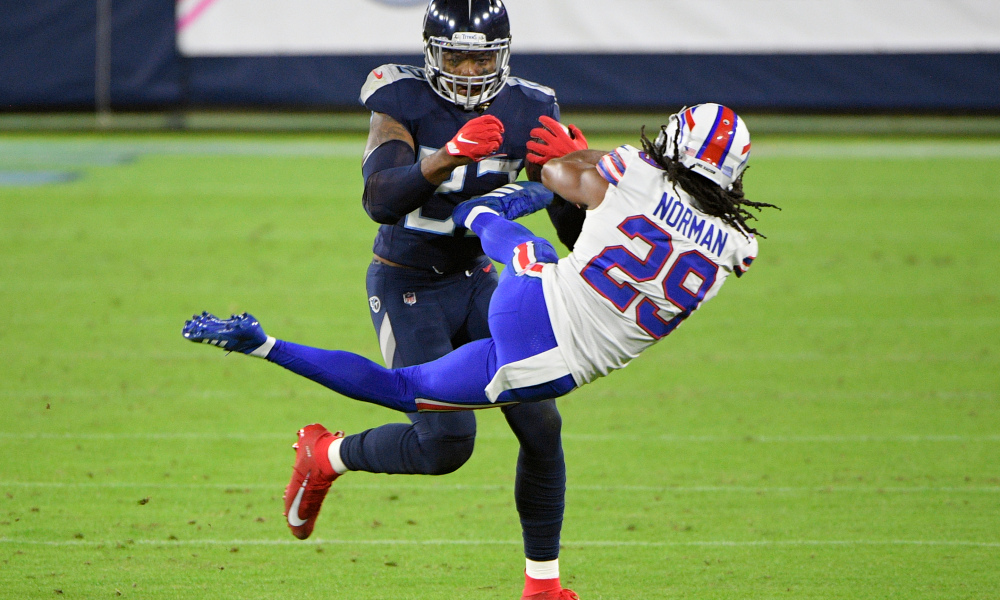 With the advent of the 17-game season in 2021, fans will not be surprised to see some records fall. The 5,000-yard passing season, for example, will likely become more common and a new record season of 6,000 yards might not be that much of a surprise considering the extra game. 
But, just because the numbers get bigger don't be fooled into thinking that a new record automatically becomes the most dominant performance in NFL history. You would be wrong. 
There have been many outstanding performances throughout the history of the NFL. Some, many fans may have never even heard of, but there are a handful that rank among the most dominant seasons in league history. And, some of them will most certainly surprise you.
— NFL Mega Contest – $500K in Total Prizes —
The NFL's Most Dominant Passing Season
When you think of dominant passing seasons, you may think of Patrick Mahomes eclipsing 5,000 yards a few years ago or Peyton Manning's 5,000-yard season. Dan Marino was one of the rare 1980s quarterbacks to have a 5,000-yard season. You may even think of Tom Brady who surely has to be among the most dominant passing seasons in NFL history. 
But, if we compare quarterbacks to their peers, we will find that while Marino and Brady make the list they don't have the most dominant passing season in NFL history. In 1973, the average NFL starting quarterback threw for 1,662 yards in a season. It was a different game then, but one quarterback absolutely annihilated his competition that season – Philadelphia's Roman Gabriel. 
Most of today's fans probably don't recognize Gabriel's name, but he had the most dominant performance by a quarterback compared to his NFL peers since 1970. Gabriel passed for a then unheard of 3,219 yards. He threw for 669 yards more than the guy in second place (Jim Plunkett) and was 93.7 percent better than the average NFL quarterback that season. 
In Marino's 5,084-yard season in 1983, the average starter threw for 2,814 yards. Marino was 80.7 percent better than average. He was also 70 percent better than average in 1986. Those two seasons are the next two most dominant passing seasons since 1970. Brady owns the fourth spot when he threw for 4,806 in 2007. He was 69.3 percent better than the average starter.
The Most Dominant Receiving Season
Most modern-day fans will likely remember, or at least heard of, Calvin Johnson's 1,964-yard season in 2012. He was absolutely phenomenal that season and he was 83.9 percent better than the average No. 1 receiver that season. In 2012, an NFL team's No. 1 receiver averaged 1,068 yards for that year. 
Johnson's outstanding season was not the most dominant in NFL history. That would belong to an old San Diego Chargers wide receiver named Wes Chandler. Chandler had just 1,032 yards receiving in 1982, but it was in fact the most dominant season ever by a wide receiver.
Here's how. For football historians, the 1982 season was a strike year. The 16-game schedule was cut to nine games. But wait, there's more. Chandler, the Chargers top receiver, missed a game and only played in eight. So, think about it. Chandler totaled 1,032 yards receiving in eight games. That's a ridiculous 129 yards per game. Translated to a 16-game season, that's 2,064 yards! 
In 1982, the average No. 1 wide receiver on a team totaled 510 yards for the season. Chandler more than doubled up the average receiver in the NFL at the time. He was 102.3 percent better than average. Johnson's 2012 season was still impressive. He was 83.9 percent better than the average No. 1 receiver, but even he didn't come close to what Chandler did in '82.
Interestingly, of the top six most dominant performances by a wide receiver in terms of yardage, five of them occurred between 1973 and 1982. In that same strike-shortened season in '82, a young, gangly San Francisco 49ers receiver totaled 913 yards, 79 percent better than the average. His name was Dwight Clark. 
— Join NFL Survivor Contest Here – $200K Winner Take All —
The Most Dominant Rushing Season
OJ Simpson first broke the 2,000-yard mark back in 1973 when NFL teams played just 14 games. That year, the average NFL starting running back averaged 865.4 yards. Simpson was 131.5 percent better than the average. That season, however, is not the most dominant in NFL history. 
No, that honor would belong to someone current NFL fans are more familiar with – Derrick Henry. In 2020, Henry ran for 2,027 yards. It's funny but, since Simpson's record-breaking season the average starting running back doesn't average that many more yards per game. In 2020, the number was 872.7 yards for the season. Henry finished 132.3 percent better than the average NFL running back. That's dominance!