Most Hated TV Sports Announcer – Poll – Poll Results
September 20, 2021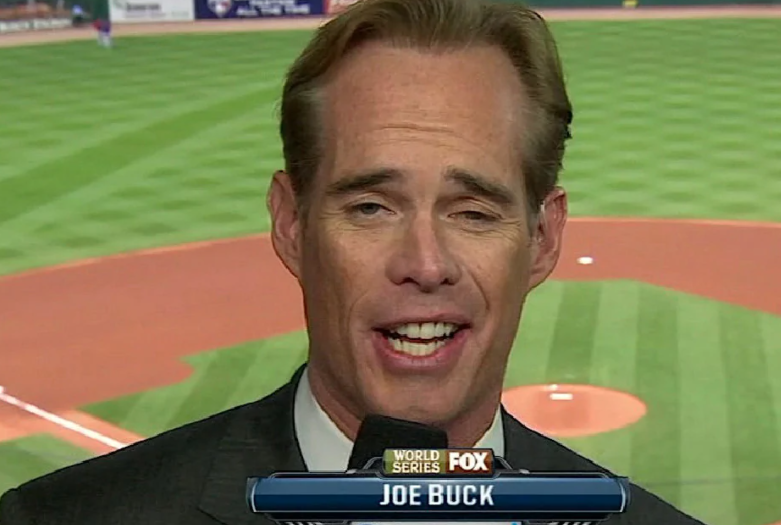 "Do you believe in miracles?" "Whoa Nelly!" 
They are some of the most iconic phrases brought to us by some of the best sports announcers of all-time. This piece is not about them rather it is about those at the other end. Those that make a game tough to watch because we hate them so badly.
Here are four of the worst. For the record, we kept this to those who are either play-by-play announcers or color commentators. Sorry, but haters of Colin Cowherd and Stephen A. Smith … maybe another time.
JOE BUCK
Joe Buck Sucks. I think there are bumper stickers out there with that on it. There is a Facebook group "Joe Buck Sucks" with over 42,000 members. Face it. Joe Buck is just an easy target.
He got hired by Fox when he was just 25. Oh, that's right. Daddy was Jack Buck who earned his fame as the play-by-play man for the St. Louis Cardinals. Jack Buck served in World War II. He even earned a Purple Heart. 
Little Joe went to the posh St. Louis Country Day School and then was off to Indiana University, a school from which he did not graduate. Probably too many kegstands and/or bong hits. It seems as though some of his undergraduate activities may have warped Joe's brain. He often has trouble saying anything. 
Here's the deal. If you long for a nap on a Sunday, flip on the NFL game that Buck and partner Troy Aikman are doing. It will make you feel right at home…if you're home happens to be a retirement home. 
CHRIS COLLINSWORTH
The absolute best way to watch Sunday Night Football on NBC is to put the game on your big screen TV and mute the sound. That way, you don't have to listen to the continual nasally, whining voice of one Chris Collinsworth. It's truly amazing how NBC can pair one of the all-time greats – Al Michaels – with such a dud. 
Does Collinsworth know the game? Sure, he was a pretty good wide receiver at the University of Florida earning All-American status before embarking on an eight-year NFL career. The lanky Collinsworth was even a first-team All-Pro in 1983 and caught 36 career NFL touchdowns. Too bad none of that did anything for his voice. 
You know that sound when you're fingers dig into Styrofoam or fingernails on a chalkboard? Yeah, Collinsworth's voice is worse. What's worse than his voice is his evident hatred of AFC Central teams not named Cincinnati. If Baltimore, Cleveland, or Pittsburgh is playing the Bengals on a Sunday night (which doesn't happen often because they suck), do yourself a favor. Turn the sound off.
Or, if you'd rather have some fun, try the Chris Collinsworth Drinking Game. Every time Collinsworth uses the phrase "this is a guy…" or "we talked about…" or simply says "RPO," you drink. You'll be stealing stuff out of your own car by the end of the first quarter.
GARY DANIELSON
Apparently, Gary Danielson also has a Facebook fan page. The "We Hate Gary Danielson" fan page has about 1,000 members. Fans offer Gary such loving criticism as "You suck, Gary" and "Personally, I recommend a laryngectomy. "
It's a wonder how Danielson has lasted this long. So like Collinsworth, Danielson is a former college and NFL player. He played at the "Cradle of Quarterbacks" aka Purdue University before spending nine years with the Detroit Lions. No one remembers nor do they care since it was like 1,000 years ago.
It's just like no one cares to listen to Danielson when he speaks on air, which is way too often. It's amazing that viewers can even hear Danielson when his head is often so far up Nick Saban's or Kirby Smart's *ss! 
Danielson is disliked so much that even Alabama and Georgia fans can't stand him. Danielson will rave over both teams no matter what. Danielson once spent the entire time between downs gushing about how Alabama picked up a blitz and completed a pass. As he finished, the Crimson Tide were busy getting stuffed on fourth down. 
He continually misidentifies players, doesn't understand the difference between a false start and illegal motion, and many fans say his commentary is dated. That's probably because Danielson is old. He's so old he reportedly owes Jesus a nickel. 
— Get a 125% Bonus when you sign up at BetUS – America's Premier Sportsbook – Use Promo Code SBA125 —
GUS JOHNSON
If there is one thing Johnson is, it's enthusiastic. But, his enthusiasm is just annoying. There's Dickie V enthusiasm or even old-school Keith Jackson enthusiasm, and then there's Johnson. It's just not the same. 
"Here comes the pain!" "Hot Sauce." "What a game!" Seriously? You could get an untrained parrot to repeat these catch phrases and it probably wouldn't be as annoying as "Gush" Johnson. 
And then there's the homer in Johnson. Somehow, Augustus – yep, Augustus Cornelius Johnson Jr. – was able to call the 2019 Michigan-Ohio State game. That wouldn't have been so bad, but Gus hails from Detroit. In the Motor City, they don't like that "team down there."
Michigan WR Donovan Peoples-Jones caught an apparent touchdown pass against the Buckeyes. The officials ruled it an incompletion (which it was), but you would have never known that from Johnson who continued rambling for minutes before he made it known the catch was actually not a catch.
Gus loves a favorite. When a heavy favorite is playing, he actively roots for them and genuinely sounds dismayed when they fail to convert. This past weekend he was cheering for Oklahoma in their game against Nebraska. Trust me, if Nebraska was favored by three TD's he would have been rooting on the Huskers. He does more than root, he slobs the knob.
Maybe it's the water in Detroit. Danielson actually went to Divine Child HS in Dearborn, Mich., which is just 8.7 miles from the city. Whatever it is, both Gus and Gary are among the most hated sports announcers today.
— SportsBetting.ag is offering a 100% bonus for any first time deposit using cryptocurrency. Use the link and choose the special bonus when depositing. —
BILL WALTON
Basketball TV announcer Bill Walton was once a respectable college and NBA player. Now he routinely plays the fool on national TV for all the public to see.
Every game that Bill Walton is assigned to cover becomes a side show of anecdotal stories of John Wooden or the Grateful Dead. For him, the game appears to interrupt his meandering stories.
Tell Us What You Think – Vote in the Poll Below (Vote to reveal results)