DraftKings Vs. FanDuel – A Sportsbook Comparison
January 18, 2022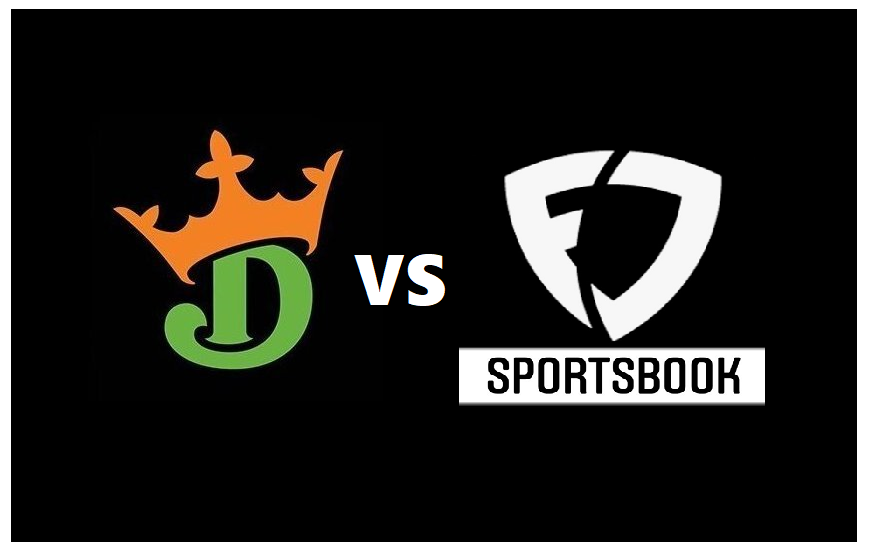 DraftKings and FanDuel are two of the largest online fantasy sportsbooks globally. Together they have roughly 14 million users and comprise 95% of the fantasy sports market. If that wasn't enough, both sites now offer sportsbooks for online sports betting. As more states legalize online sports wagers, competition between the two platforms could get fierce.
Both DraftKings and FanDuel have a lot to offer, so deciding between the two platforms can be tough. Neither site has a clear advantage over the other, so to help you choose, here is an in-depth comparison of DraftKings and FanDuel.
Differences at a Glance
DraftKings
Late swap allows you to switch players right up until game time
1 point per reception in fantasy football
A free $10 ticket for a contest for every friend referred
DraftKings promo codes offer extra bonuses
International Sports league availability
FanDuel
No swapping once games in the contest begin
0.5 points per reception in fantasy football
Each referral earns you and your friend $15 after you've played $10 worth of contests
Promo codes are also available
Fewer international leagues
Available Sports
DraftKings and FanDuel both off daily fantasy sports and online sports betting for most US sporting leagues. These include the NFL, NBA, NHL, MLB, PGA, college basketball, college football, and NASCAR.
If you're interested in international sporting leagues, this is where the two sites differ. DraftKings offers EuroLeague basketball, the Canadian Football League, and several others. For fantasy eSports or MMA fights, DraftKings is the only option.
Where can you play?
Both DraftKings and FanDuel are available in Canada and the 43 US states where this type of sports gaming is currently legal. DraftKings has a wider international reach, offering accounts to customers in Germany, the United Kingdom, Ireland, Austria, and Malta.
If mobile sports betting is your thing, DraftKings operates in more places. FanDuel is available only in Indiana, New Jersey, Pennsylvania, New Jersey, and West Virginia. It operates as a retail-only site in Iowa, Mississippi, and New York.
Fantasy Games
Except for a few features, daily fantasy games are similar on DraftKings and FanDuel. The distinguishing features on each site could affect your chances of winning or your perception of quality.
Salary Caps
Regardless of the sport, almost every contest on FanDuel has a salary cap of $60,000. This is higher than most caps on DraftKings, so it can be easier to field a high-scoring team.
DraftKings salary cap model varies depending on the sport and the tournament. This adds a different dimension to gameplay, but it can also favor high-volume players.
Contest Types
Both platforms offer tournaments of all sizes with 50/50s, guaranteed payouts, and head-to-head competitions.
DraftKings offers satellite contests, which are small tournaments with low entry fees. If you win a satellite contest, you gain entry into a larger contest for free. Satellite contests offer players a chance to compete in high-profile tournaments that they couldn't afford otherwise.
The advantage of FanDuel is that they are constantly experimenting with new contest varieties. Previous examples include the positionless NBA league that allowed you to draft any five players to your team regardless of their position. The home range challenge is another example, where only MLB home runs counted towards players' scores.
Late Swap
The deadline for player trades is one of the biggest differences between DraftKings and FanDuel. With FanDuel, your player roster gets locked in once the first games in your contest begin. DraftKings offers late swap, meaning you can trade players right up until the game begins for that particular player.
For NBA fantasy contests, late swap can be particularly useful, as the NBA doesn't announce injuries until almost game time. It's also handy for MLB and NHL games, where West Coast game lineups don't always get announced before the East Coast games start.
The Verdict
DraftKings and FanDuel both offer attractive features for fantasy sports. There's no reason not to try both or use one platform for certain sports. DraftKings is a superior platform with access to international leagues for sports betting. FanDuel's consistent salary caps make for a simpler experience, and they have cheaper odds, so the choice is up to you.