NCAA Football Totals Betting
July 26, 2022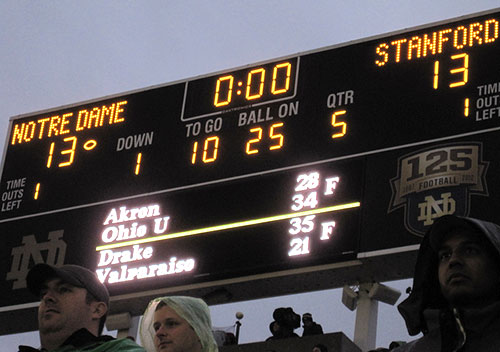 Betting on college football has become increasingly popular over the past decade with the rise of sports betting in general. NCAA football totals betting is one of the more popular bets and can be very profitable for those that know what they are doing. Whether you are an experienced or more recreational bettor, winning more NCAA totals bets is always the goal.
The Totals Bet
Success in NCAA football totals betting begins with understanding the bet. Betting on a game total is simply predicting whether the final score of a game will go Over or Under a point total set by oddsmakers. Bettors aren't predicting the exact score. If the final score lands on the total, the result is a Push and the bet is refunded.
The outcome of a game doesn't matter either. The only thing that matters is the combined final score. If you placed a bet on a game total to go Over 50 and the final score was 28-24, you are a winner.
Factors Influencing Totals
Totals bettors can look at a range of variables that affect scoring. One, of course, is the respective abilities of the offenses and defenses of the two teams playing each other. Teams with great defenses tend to not give up a lot of points. That is often reflected in a lower total.
On the other end, teams with high-scoring offenses score a lot. Game totals usually reflect that. In college games, it is common to have two relatively high-scoring teams have a total of 70 or higher. 
Weather is a huge factor and can have a great impact on game totals. Games played in cold, wet, and rainy conditions usually see less scoring. Playing in an indoor stadium has an impact as well as neither team has to deal with the elements. 
Playing at home in college is a bigger deal than in the NFL. Remember, these are 18- to 22-year-olds that can feed off of a crowd of 90,000 to 100,000. Being in front of a home crowd or being away from home can have an impact on game totals.
The One Element That Matters Most
Players, coaches, and bettors cannot control the weather, but one element more than any other plays a key role in determining totals – wind. Wind has a big impact on games, especially these days as college offenses feature the pass more often. 
It is when wind speeds reach eight miles per hour that it really starts to play a role. In a sample of several thousand college football games over the past few years, the Under is 1587-1380 when the wind is blowing at least eight miles per hour.
Higher winds have an even greater impact on the Under. In over 700 games over the past several years where recorded wind speeds were 13 mile per hour or higher, the Under is 449-332. These numbers are significant and bettors should keep them in mind when betting college football totals.
Scoring Average vs. Total
The less experienced bettor typically will pound the Over when two very high-scoring teams play each other.  Say you have two teams that average nearly 80 points per game total. Bettors would be wise to consider the following.
In a 1,500-plus game sample where the scoring averages of two teams was greater than the posted game total, the Under is actually the better play. In such games over the last several years, the Under is 898-646-28. That's a 58.2 percent winning percentage. That makes it another scenario bettors should keep in mind when betting CFB totals.
The same process works in reverse too. When you have two teams whose scoring averages add up to less than the set game total, the Over is the better play. In a sample of over 1,200 college football games with a total of 52 or higher (and two teams whose scoring averages add up to more than 52 points), the average final combined score was 64.2. The Over his 55.8 percent of the time.
These are all valuable pieces of information for the NCAA football totals bettor.