2022 NC State Football Preview
July 27, 2022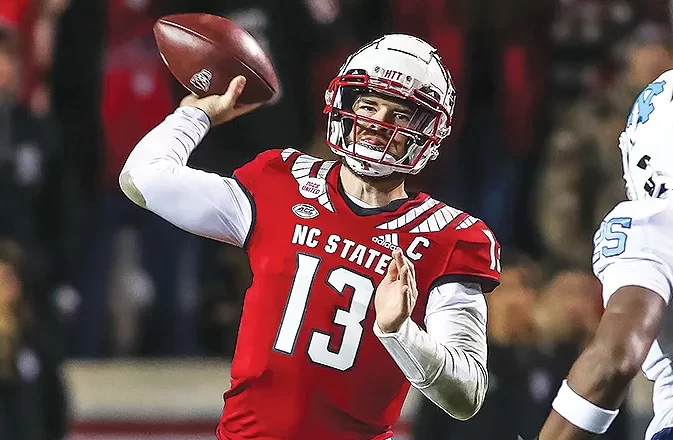 The Wolfpack of N.C. State are looking to improve on a tremendously successful 2021 campaign which saw them go 9-3 overall. They were 6-2 in-conference and a perfect 7-0 at home. The four team captains are all returning including star Jr. QB Devin Leary (pictured).
10th year NC State head coach Dave Doren is having a very exciting stretch. This is what he has been building for his entire career.
Starting RB Jordan Houston is coming off a season-ending injury last season and is looking to finally have some success. His college career has not been what many thought it would be to this point. In three seasons Houston has rushed for a total of 762 yards and 6 TD's.
The team is made up a lot of upperclassmen which is always a good sign. Experience and age is everything at this level of football. An amazing 9 starters are returning on offense. Defense is returning 10 starters! The Wolfpack and their fans are very optimistic about the 2022 season.
NC State Schedule for 2022
| DATE | OPPONENT | Comments |
| --- | --- | --- |
| 9/3/2022 | at East Carolina | ECU is a tough squad. NCS will have an early test here but should get the win. |
| 9/10/2022 | Charleston Southern | NCS is superior and should win. |
| 9/17/2022 | Texas Tech | TT is tough. NCS at home has the advantage and will be favored by a TD or more. |
| 9/24/2022 | UConn | NCS will steamroll UCONN. |
| 10/1/2022 | at Clemson | This is a tough one. NCS can win but probably won't. If they are getting a TD or more take the points. |
| 10/8/2022 | Florida State | NCS should be able to defeat FSU at home. |
| 10/15/2022 | at Syracuse | SYR was 5-7 last year and should drop this one to the Wolfpack. |
| 10/27/2022 | Virginia Tech | Tech will be a challenge. Still NCS should win. |
| 11/5/2022 | Wake Forest | Wake will be tough but again NCS will be favored and should win. |
| 11/12/2022 | Boston College | BC is a challenge but NCS is lucky to have them at home and will be favored. |
| 11/19/2022 | at Louisville | LOU was 6-7 last season. On paper NCS should win this one. But it may be a close one. |
| 11/25/2022 | at North Carolina | Underachieving UNC team will be tough and this may be the end of season loss that knocks NCS out of the playoff conversation. |
Season Total Wins and Championship Odds
The Pack can totally win 10 or 11 games if things go well this year. If things go extremely well NC State can win all their games. They have the depth to do so and the ACC isn't a very strong conference this year. The college football win total is listed at 8.5 wins and the Over is definitely the smart bet here.
The +15,000 odds being offered at SportsBetting.ag to win the national title is very generous and there is value. Do I think NC State will win the national title? I think they probably will not. But with these odds there is value and if they make it into the playoffs by winning the ACC, then you can start hedging this futures bet to guarantee profit.