2022 Clemson Football Betting Preview
July 28, 2022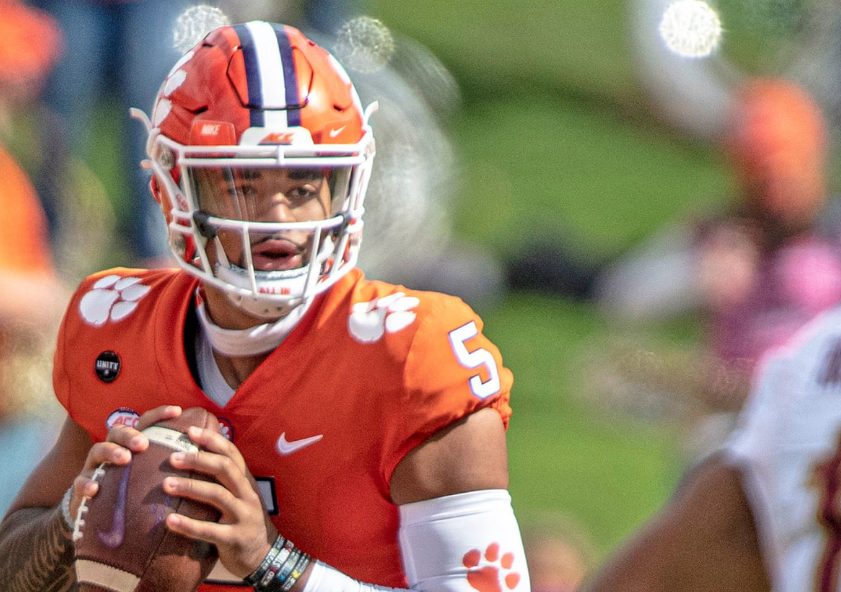 The 2022 season of Clemson football is an unpredictable one. There are many variables to this team which exist. The season can actually go one of two ways: very poorly or very great. Everything rests on the ability of returning QB DJ Uiagalelei, the highly touted #1 high school recruit a few years ago who has yet to pan out.
Coaching, of course, will be head coach Dabo Sweeney. The two time national champion is looking to get another trophy for the Clemson faithful. Gone is his defensive mastermind and assistant head coach Brent Venables, who left to take the head coaching job at Oklahoma.
Clemson returns half of their starters on offense and players who combined for a total of 72% of their offense in 2021. Clemson loses some key players from their 10-3 team from last year including leading receiver Justyn Ross, top tackler James Skalski and a both all-ACC cornerbacks in Andrew Booth and Mario Goodrich. But as you know, Sweeney knows how to reload every year. Its a skill taught to him by his former boss Nick Saban.
2022 Clemson Football Schedule
Week 1, Sept. 5 vs. Georgia Tech (Atlanta) – Clemson is favored by 19 points in this first game at sbaodds.com – They should have no real trouble with GT.
Week 2, Sept. 10 vs. Furman – This will most surely be a beatdown. Sweeney will get to rotate players in and try different combos.
Week 2, Sept. 17 vs. Louisiana Tech – LA. Tech will be outmatched and outgunned in this one.
Week 3, Sept 24 at Wake Forest – Wake was pretty good last year and will be taken very seriously by Dabo Sweeney and crew. The Tigers should get the win here.
Week 4, Oct. 1 vs. NC State – NC State is really building something great. This will be a good matchup and everything will rest on the Clemson QB. If he players well Clemson gets the win.
Week 5, Oct. 8 at Boston College – BC always plays Clemson tough. Clemson only won by 6 points last year. The Tigers should get this win but if they are laying a lot of points take the Eagles.
Week 6, Oct. 15 at Florida State – Clemson beat FSU 30-20 last year. This year won't be as close. FSU has some great key players but are outgunned in this matchup.
Week 7, Oct. 22 vs. Syracuse – The 'Cuse were just 5-7 last season. Clemson only won 17-14 last year vs them. But this year it should be a blowout.
Week 8, Oct. 29 Idle
Week 9, Nov. 5 at Notre Dame – These two last met in the ACC championship game from two years ago. Clemson put the smackdown on ND 34-10. N.D. has too many question marks but they should play this one tough even though they will have a few losses by this time. If N.D. is +7.5 or higher go ahead and back the Irish.
Week 10, Nov. 12 vs. Louisville – Clemson leads this all time series 7-0. Last season they only won by 6 points over LOU. This year they will win by triple that.
Week 11, Nov. 19 vs. Miami – The 'Canes will come in looking to play great football. And it will be competitive for awhile. But the Tigers will prove to be too much for the Hurricanes.
Week 12, Nov. 26 vs. South Carolina – This one may actually be the scariest game on the board. In-state rivalries can be unpredictable. SC may be able to get into Clemson's head early. A hard fought game should see Clemson coming out on top. If the line is 14 or more take the 'Cocks.
Dec. 3 ACC Championship Game
Betting Prediction
As you can see from our analysis above, we like Clemson a lot this year. They have a chance to run their schedule. Even if they drop a game they will still finish over the 10.5 games listed on the total wins over-under board.
National championship odds ay BetUS.com currently have Clemson at +1000. It is a very real possibility that they will be playing in that final game.