2022 Stanford Football Preview
August 5, 2022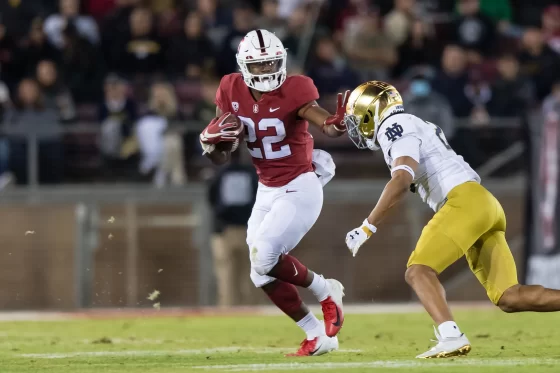 David Shaw took over the program in 2011 after Jim Harbaugh left to coach the San Francisco 49ers in the NFL. Shaw had instant success at Stanford going 11-2, 12-2 & 11-3 in his first three years respectively. He also had double digit wins in 2015 and 2016. But since then Shaw's Cardinal have gone just 29-19, including abysmal seasons where they went 4-8 & 3-9 in 2019 & 2021.
Did Shaw coast off the recruiting and reputation that Harbaugh created? If he does not have a successful 2022 you can bet the crowd will be calling for a coaching change.
Stanford Players Preview
Having watched Stanford football for 35 years, one thing they predicated themselves on was smart, sharp & tough offensive line play. It really is what set them apart. It was a thing of beauty to see them march down the field methodically and score a TD. No penalties. Very few mistakes. But the last several years all that is gone.
The line does not seem as "coached up" as years previous. They cannot march down the field anymore. Stanford cannot score points at all really (failed to score more than 14 points in their last 5 games). If Stanford is going to have success in 2022 and beyond it needs to fix its offensive line problem. The good news is that Stanford is returning their entire offensive line as well as the backups in 2022.
Two running backs transferred out of Stanford and that leaves EJ Smith as the main option to tote the rock. Smith is the son of NFL Hall of Famer Emmitt Smith. This will be his chance to shine on the national level.
Leading receiver TE Benjamin Yurosek returns along with his 43 grabs from 2021. Tanner McKee is returning at QB. He is a reliable and sturdy football player.
Defense 
This side of the ball needs help too. They allowed 236 YPG rushing. You cannot win football games allowing those kind of ground yards. Leading tackler Levani Damunin is back so that is a positive. Kyu Blu Kelly is a CB with NFL serious NFL talent. This defensive team should be better in 2022. They have no real choice. It's hard to be as bad as they were in 2021 again.
2022 Stanford Cardinal Schedule
Unfortunately for the Cardinal, the 2022 schedule is ranked one of the toughest in the nation. Phil Steele has them ranked #7 toughest overall.
September 3 – vs Colgate – This should be an easy win for the Cardinal.
September 10 – vs USC – USC will be too much for Stanford to handle.
September 17 – OFF
September 24 – vs Washington – Stanford will be small favorites in this one but we don't see a clear advantage either way.
October 1 – at Oregon – Hard fought game with Oregon winning by a couple scores is our prediction.
October 8 – vs Oregon State – This should be a nice convincing win the Stanford. Bet the Cardinal minus the points no matter what they are.
October 15 – at Notre Dame – The Irish have question marks of their own. This game should be close with Notre Dame edging out the Cardinal. But don't be surprised by a Stanford upset here.
October 22 – vs Arizona State – Look for Stanford to get this win against a tough opponent.
October – 29 at UCLA – We actually like Stanford to win this game in a low scoring affair. Take Stanford and the Under.
November 5 – vs Washington State – This is type of game that will make or break David Shaw's tenure at Stanford. We can see Stanford dropping a game like this and get the rumbling going.
November 12 – at Utah – This should be a win for the Utes.
November 19 – at Cal – Stanford may drop this one as well.
November 26 – vs BYU – Stanford plays tough but loses to a superior team. This game seals David Shaw's fate as Stanford head coach.
Conclusions and Prognostications
The Cardinal will come out playing decently in 2022 and then lose more games than they win in the second half stretch. The pressure will mount on the Stanford AD to fire David Shaw and that will most likely happen.
Still, we see Stanford finishing with a 5-7 record making the 'Over 4.5 wins' the play regarding team total win over-unders.
National championship odds for Stanford are currently resting at +30000 at BetOnline.ag