2022 Oregon Football Preview
August 4, 2022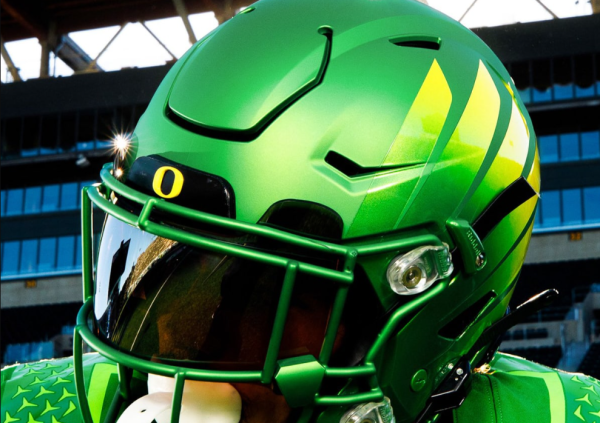 Former Georgia defensive coordinator Dan Lanning takes over the head coaching job in Eugene, Oregon. The Ducks amassed a 10-4 record last season which included a 7-2 mark in the conference. Their greatest accomplishment from last year was picking up an early road win against Ohio State. The rest of the season was really mediocre in comparison. They lost games to Stanford, Oklahoma and Utah (twice).
Players
Former Auburn QB Bo Nix has transferred to Oregon and is expected to get the starting nod over former five star recruit Ty Thompson. Nix had great success against Oregon a few years ago when he engineered a major comeback against them in an early season matchup, one which cost me 330 bones if I recall correctly. He will probably do well at Oregon barring injury.
At RB, Byron Cardwell and Sean Dollars will pick up the carries, along with transfers Noah Whittington (WKU) and Mar'Keise Irving (Minnesota). Starting Oregon RB's from last year have all moved on. Coaches will be looking for one RB to establish his dominance this fall.
The OL all have starts under their belt and most were full time starters. This may be the most solid group on Oregon's roster to be honest. Two of the players, T.J. Bass and Malaesala Aumavae-Laulu, are serious NFL prospects.
Defense
The Ducks will miss powerful DE Kayvon Thibodeaux. But other than him being gone, Oregon's defense looks really solid. Noah Sewell at LB is a powerhouse and could end up being one of the best in the country.
The Ducks lose key players in the secondary but are confident in the rising underclassmen and transfer Christian Gonzalez from Colorado. Dontae Manning looks to secure a starting role at corner if he is fully healed from last season's injury.
Now lets take a look at Oregon's schedule which start off with a doozy. They travel all the way across country to take on the defending national champions in Athens, Ga. in a week 1 college football matchup.
2022 Oregon Football Schedule
September 3 – at Georgia – SBAodds.com has this line at Ga -17.5 points. It will be a very tough game for the Ducks to start with. But don't forget they went to Ohio State last year and won on the road. It can be done. Also, Georgia had 15 players selected for the NFL draft. The line seems a bit high to me. Maybe take the points in this one.
September 10 – vs Eastern Washington – This really shouldn't be that much of a challenge. Look for a convincing win.
September 17 – vs BYU – BYU should never be underestimated. They always have very talented players on the field and the program has come a along way. They finished 10-3 last season. Still, Oregon should secure the victory at home.
September 24 – at Washington State – The Cougars had a winning record last season. They will put together a special strategy for Oregon but should be outgunned, outpaced and outmatched.
October 1 – vs Stanford – Here is where things get tricky. Playing teams like Stanford can be a problem. They are not the powerhouse Stanford of old but they still land very talented players and they beat Oregon last year. But, the Stanford coaching staff is their weakspot in our opinion and Oregon should be able to win by a few scores.
October 8 – at Arizona – The Wildcats are rebuilding and managed to win just one game last season. They should lose this one by about 24 points.
October 15 – Idle
October 22 – vs UCLA – The Bruins are picked to finish fourth in the Pac-12 and have just one pre-season all-conference player. They will be slightly above mediocre more than likely and Oregon at should get the win. Should being the keyword here.
October 29 – at California – This is always a tricky one. Oregon should win this one convincingly but Cal seems to step up to the plate when playing Oregon. The Ducks won only by 7 points last season in the matchup at home last season.
November 5 – at Colorado – Too many question marks for Colorado this early to have any real predictions other than Oregon should win this game.
November 12 – vs Washington – Michael Penix Jr., transfer QB from Indiana, will be helming this team. If this game were at Washington I would sweat it a little bit more if I were Oregon.
November 19 – vs Utah – The Utes always seem to give Oregon fits. This is the team that beat them twice last season. This year Oregon will exact their revenge.
November 25 – at Oregon State – The Beavers have a modest talent level. But Oregon is an in-state rival and this game should not be overlooked. If the Ducks are laying a ton of point then bet the Beavers.
December 2 – Pac-12 Championship Game
Conclusions and Betting Odds
The Ducks look to be good in 2022. If they win that first game as heavy underdogs in Georgia then watch out. They could run the table. Even if they lose that one, they will be expected to win most every game the rest of the season. Having Utah at home will insure that this scenario has a great chance of happening. Its not a stretch to say that you may see Oregon playing in the Pac-12 Championship Game. Their total games win over-under is set at paltry 8.5 games. I think the OVER is a slam dunk.
National championship odds being offered at BetUS.com have the Ducks at +10000. This is not a shabby bet to place. They can win the Pac-12 and make it into the playoffs with just one loss.