BYU at Oregon Point Spread and Preview
September 13, 2022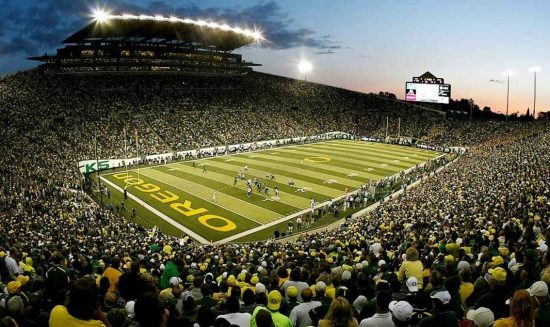 "Money Games" are where a team takes a cash payout from a school to travel to the payee's stadium to play a sport. They call them this because the host team is paying them to come. Instead of guaranteeing that they will return the favor and travel to that visiting school's home the following season, they just pay the money and be done with it. Usually, this is done by Power 5 schools who invite non-conference teams to their stadium to beat up on. That's why this particular money game is so interesting.
BYU is not used to be on the receiving side of a "money game". But when they travel to No. 25 Oregon this Saturday they will receive $1.1M. What makes this even more rare is the fact that the team receiving the funds is ranked much higher than the one paying them. BYU is currently ranked #12.
The last time BYU received money in a true money game was at Nebraska back in 2019 when BYU QB Tanner Mangum threw up a last ditch hail Mary pass as time expired and won the game. Not only did BYU get the win but they got $1M for their troubles. In 2015 when Michigan paid them $1.3M to come to Ann Arbor BYU got annihilated 31-0.
Oregon is 1-1 straight up and against the spread. After getting straight pummeled in week 1 by Georgia, they bounced back somewhat last week and put a hurtin' on Eastern Washington. BYU on the other hand has been riding high on two great wins. In week 1 they shellacked S. Florida in Tampa and last weekend they beat a highly ranked Baylor team in OT.
Point Spread
The initial line is showing that Oregon opened at -6 but that didn't last very long. It quickly came down to Oregon -3.5 and the total is resting at 57.5 points at BetUS.com
Currently the public is betting BYU just slightly more than Oregon in this matchup (54% to 46%). When we previewed this game before the season start we wrote: "A tough game immediately after playing Baylor. The Ducks may be too much to handle in Eugene. But if BYU somehow is getting a TD or more, take the Cougars." Well, the Cougars are not getting a TD or more. This game could fall on either side of that line in our honest and professional opinion.
Stats & Details
This is the seventh meeting between these two teams and the first since 2006 when they faced one another in a bowl game. BYU won 38-8 in that one. This is the 5th time that they will meet in Eugene, Oregon and the Ducks have the advantage 3 wins to 1 loss. The game kicks off at 3:30 pm EST and can be seen on FOX.
BYU Updated injury report Friday 9/16/2022