The Next NFL Head Coach to Get the Axe
October 25, 2022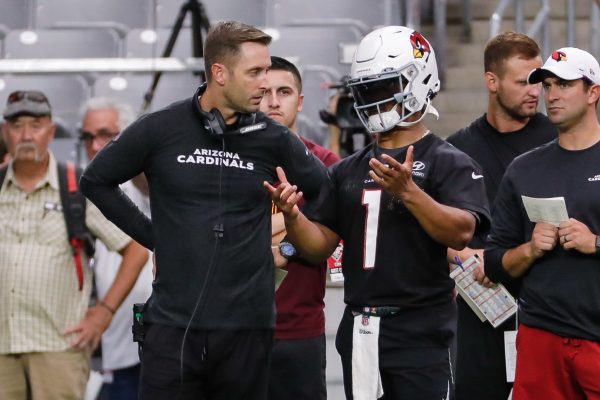 Carolina's Matt Rhule went down first. After a 1-4 start, the Panthers had enough. Rhule coached 38 games for Carolina and won 11 of them. In today's "win now" culture, 11-for-38 just wasn't good enough.
Ten teams hired new coaches heading into the 2022 NFL season. By the time it's all said and done, next season might bring about the same number of changes. A few head coaches are hanging on for dear life and it's almost a given that another is going to go before the end of the regular season.
Who will it be?
Kingsbury Is Next
Arizona's Kliff Kingsbury is one of those coaches hanging on by a thread. The Cardinals mentor saved himself with an 11-6 season last year, but then lost in the NFC wild card game. The Cards are off to a 3-4 start this season, but they have three wins over teams that are a combined 6-14.
The Cardinals offense – Kingbury's specialty – is extremely mediocre. They rank 15th in scoring offense and 17th in passing offense. After signing QB Kyler Murray to a huge new deal, the Cardinals are getting little return on their investment. 
The Kingbury situation will surely get lots of attention now that the Cardinals will be appearing on HBO's Hard Knocks. At some point, the show might reveal what we all know is coming – Kingsbury, a -110 favorite, will be let go.
Other Veterans Out the Door
Kingsbury is just 27-28-1 in his three-plus years so far. A handful of other veteran coaches could be on the way out too. Take Cleveland's Kevin Stefanski as an example. The Browns, with all of their talent, are just 2-5 after seven games. Cleveland may wait to see what happens when QB Deshaun Watson comes back, but can it really get that much better? Stefanski is fifth on the board at +2200 to go next.
Ahead of him is Washington head coach Ron Rivera (+300) and Detroit's Dan Campbell (+1600) at top rated sportsbooks. The Commanders are 3-4 and just beat Green Bay, but the Packers are 3-4 and struggling. Rivera had to put QB Carson Wentz on IR and will roll with backup Taylor Heinicke for now. Rivera is a popular head coach and with all the drama surrounding Washington owner Dan Snyder it's hard to see him making a change during the season.
That's probably the case in Detroit too. The Ford family typically sticks with coaches, which is one of the organization's biggest problems. Campbell has led the Lions to four wins in 20 games thus far. Crazier things have happened, but Detroit isn't likely to give Campbell the axe during the season. That's why he's listed at +1600 at BetUS.
First-Year, Only Year?
It's not that often that an NFL team hires a new coach and then fires him in his first season. It did happen last season though when Urban Meyer got himself into some off-the-field hot water while simultaneously going 2-11 on the field.
In 2022, the most likely one-and-done candidate is Denver's Nathaniel Hackett. The Broncos went out and traded for Russell Wilson, who was supposed to thrive with Hackett. Remember, Hackett coached Aaron Rodgers in Green Bay. Absolutely nothing about the Broncos offense resembles anything Hackett and Rodgers did in Green Bay.
Denver is dead last in scoring offense averaging 14.3 points per game. Wilson ranks 19th in passing yards, 29th in QB rating, and 31st in completion percentage. He has been sacked the sixth-most times (20) of all quarterbacks in the league. 
On top of all the offensive woes, Hackett has made some serious coaching errors. He has mismanaged the clock late in games and likely cost Denver a win or two. That's why Hackett is second on this board at +190 to be fired next. 
Tampa Bay's Todd Bowles may find himself on the board after the Bucs' 3-4 start. Despite the terrible start, the Bucs are still in first place in the NFC South and the favorite to win the division. The other first-year coach that has been having issues is Chicago's Matt Eberflus. He is on the board but as a +3300 longshot at betonline.ag. Beating New England on Monday night helped Eberflus' cause.