Regular Time Soccer Betting & Why Drake Lost $1 Million
January 12, 2023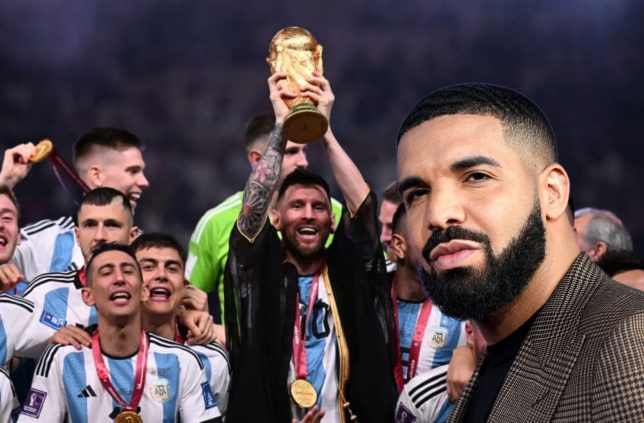 Canadian rapper Drake has long been active in the sports betting industry. Although he is best known for being a super-fan of the Toronto Raptors, he has been spotted at plenty of other sporting events. He's earned a reputation as a big-time bettor too.
It comes as no surprise that a man of Drake's means has dabbled in gambling on sporting events. Prior to the World Cup final between Argentina and France, Drake wagered $1 million on Argentina to win the World Cup. 
Awesome, right? Argentina did win the World Cup, but unfortunately for Drake, he lost his bet. That is the frustration of betting on soccer.
Regular Time Bets
If you have never bet on soccer before, it can get a little complicated. In most sports, you can wager on either team to win. If a game goes to overtime, bettors win if their team wins in the extra period. That's not always the case with soccer.
If you don't know soccer that well, regular time refers to the first 90 minutes of play. Teams play two 45-minute halves and then play any extra time, if necessary. The clock does not stop in a soccer match. If a player is injured, for example, the clock continues to run. The time missed during the injury becomes part of the extra time after the initial 90 minutes.
The three-way moneyline is the most common way to bet on soccer. Bettors have the option of betting on Team A to win, Team B to win, or the teams to play to a draw. In World Cup play, teams will play extra time and go to a shootout to determine a winner. Still, bets are graded after the 90 minutes of regular time.
Drake's Dilemma
Drake placed his bet on Argentina to win. But, they did win, didn't they? Yes, but remember, Drake's bet was graded after the first 90 minutes. Here's what happened. 
World Cup Final Odds
Argentina +175
France +175
Draw +200
So, Drake put $1 million on Argentina to win. A winning bet would have paid out $2.75 million (Drake's stake of $1 million plus winnings of $1.75 million). The problem for Drake was French star Kylian Mbappe. He scored two goals for France to tie the score at 2-2. After 90 minutes, the game was still tied. 
It turns out that the Draw at +200 was the winning bet. Any bettors, like Drake, who bet on Argentina or France lost. No matter the outcome of the extra time – Argentina won – the bet was a loser because only regular time is counted.
A Better Bet
Drake may have been better off going to the futures market and betting on Argentina to win the World Cup. In that market, France was the favorite at +100. Argentina was given +255 odds to win it all. If Drake would have placed his $1 million here, he would have made an extra $800K (payout of $3.55 million). 
Drake's Other Notable Bets
Drake placed bets on Odell Beckham Jr. to score a touchdown and the Los Angeles Rams winning Super Bowl LVI. On those two wagers, he made $559,000.
When he placed a wager on Jorge Masvidal to defeat Colby Covington at UFC 272 back in March, he lost $275,000.
He wagered $80,000 in early April that Duke will defeat North Carolina in the Final Four. He lost that bet. Later on in April, he earned back that money plus some more when he won $184,000 off a $78,000 bet that Drake London would be the first receiver chosen in the 2022 NFL draft.
Drake earned approximately $650,000 on a $159,000 gamble when the Golden State Warriors won the NBA's Western Conference this past season.
In May, he won one of his more stunning parlays that included three Game 7s from two different sports. He predicted victories for the Calgary Flames over the Dallas Stars, the New York Rangers over the Pittsburgh Penguins, and the Dallas Mavericks over the Phoenix Suns. The $309,000 parlay returned almost $2.7 million in winnings.