Where NFL QB Free Agents May Land in 2023
February 24, 2023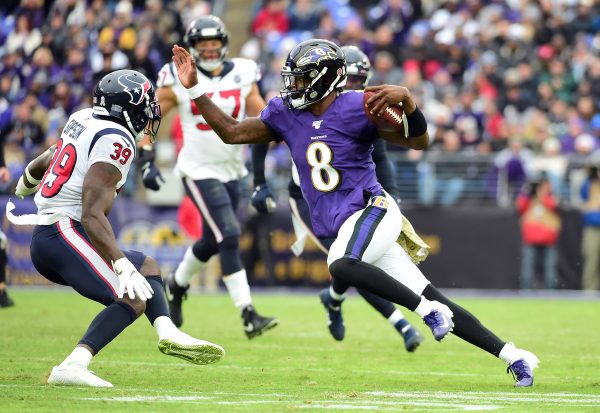 The NFL offseason for 2023 has begun. This week, franchise tags can be put on players, and soon after that, free agency will start. Clubs can start negotiating with unsigned players on March 13, the formal start date for legal tampering. New contracts — including trades — can be inked on March 15. The quarterback position is expected to rule the field as usual. The 2023 crop included a number of repeat Pro Bowlers. Here's a look at the five expected to be available and where they might end up.
LAMAR JACKSON
Jackson is entering his sixth NFL season at age 26 and would only become available via trade. It is expected that Baltimore will use the franchise tag, though which one is not definitive. The exclusive tag locks him up for this year at $45 million. The Ravens can also use the non-exclusive tag at $32.4M and that would allow Jackson to negotiate with other teams. If he signs with another team, Baltimore gets two first-round draft picks.
Jackson, who has two 1,000-yard rushing seasons and a league MVP, would fit nicely in Miami's offense though they do have Tua Tagovailoa currently. Atlanta and run-heavy coach Arthur Smith would love to fit Jackson into their scheme as would Josh McDaniels and the Raiders. It will come down to who might have the most money to spend as Jackson could command an average annual contract value of $50M.
DEREK CARR
The Raiders let Carr, 32, walk. He's a four-time Pro Bowler and has been healthy for most of his career. Carr hasn't been spectacular, but he has had his moments and is pretty close to a top-10 starter in the league.
He'll command roughly $30 to $35 million in annual contract value, but he could be worth it. With Tom Brady retiring for good now, the Bucs would love another veteran quarterback to take over the offense. It would be the division to play in, that's for sure. Washington is also a possibility with Carson Wentz out and Eric Bieniemy as the new offensive coordinator. Carr's former coach with the Raiders, Todd Downing, is the new passing game coordinator for the Jets.
DANIEL JONES
After last season, the Giants may be kicking themselves for not exercising Jones' fifth-year option. Last season was Jones' best in new head coach Brian Daboll's offense. Whether he can take New York deeper in the playoffs remains to be seen, but the free agent market puts Jones in the $29 to $35 million area. 
The Colts have the biggest need at quarterback in the NFL. While they may trade into the top pick to take Alabama QB Bryce Young, they could pursue Jones. Atlanta plays a similar offense to the Giants and the Falcons need a long-term solution at quarterback. If Jackson ends up traded, the Ravens could be a landing spot for Jones.
GENO SMITH
Smith, who is 32 years of age, played himself into a nice situation last year. Smith had a career year completing nearly 70 percent of his passes for 4,282 yards and 30 touchdowns. The knock, of course, is that Smith is aging, but he does have 11 years of NFL experience. Teams could do worse than Smith, but to get him someone is going to have to pony up somewhere in the range of $25 to $30 million in average annual contract value.
Seattle, obviously, has the biggest say in where Smith ends up. The Seahawks could work to extend his current contract or slap the franchise tag on him. Tampa Bay makes a lot of sense as the Bucs prefer an experienced guy and head coach Todd Bowles is familiar with Smith from their time with the Jets. Seattle makes the most sense. Where do they go if they let Smith leave?
JIMMY GAROPPOLO
Somehow, Jimmy G has nine years of NFL experience and has only started a full season twice. After losing the job to Trey Lance last year, Garoppolo was on his way to a career year before he got hurt. Then, rookie Brock Purdy led the Niners to the NFC title game. With a crowded QB room, Jimmy G might have to go. 
He's only 31, but he's had his share of injuries missing 31 games over the past five seasons. Still, you have to love his upside. In 57 NFL starts, he's 40-17. He's 4-2 in the postseason too. There may be a team looking for a short-term rental or even bench help. Once again, Tampa Bay comes to mind. Mike McDaniel worked with Jimmy G in San Francisco and Josh McDaniels while they were both in New England.