The Impact of Goalies in Betting the NHL Playoffs
April 28, 2023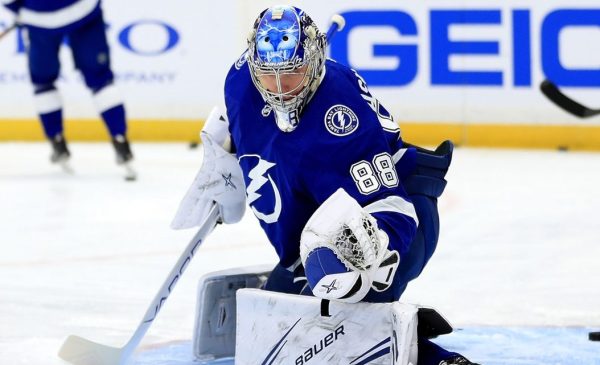 Like the pitcher in baseball, the NHL goalie has a huge impact on game outcomes. This impact is even more pronounced in the playoffs. Here is what you need to know about the impact of goalies as you bet on the Stanley Cup playoffs.
It's a Dirty Job
Being an NHL goalie during the Stanley Cup playoffs is one of the most thankless jobs there is. You're a hero if your team succeeds. If not, then, well… Even when you succeed, you aren't exactly your team's top defenseman or goal scorer.
Goalies often take the blame when teams lose in a playoff game. Bettors must be knowledgeable about goalie evaluation because it is essential to accurately assess and handicap an NHL playoff game.
You always start with the goalies when handicapping a postseason matchup. If you find a mismatch, keep in mind that the two teams in a series will play each other at least four times and as many as seven.
Consistency
The Stanley Cup playoffs are more intense than the regular season. The closer a team gets to winning a series or being eliminated, the more important each game becomes. 
Players can suffer as a result of the pressure. The pressure is even greater for a goalie. He is the last line of defense and the one who is visible on television when an opponent scores. 
It's challenging, but NHL bettors have to look beyond the basic stats. For instance, a goalie's goals against average is 2.00. That sounds pretty good, but has he been consistent over time?
A goalie might have given up four goals in one game before posting a shutout the next. His GAA over those two games is 2.00. Now, if a bettor examined every game and discovered that the goalie allowed two goals per game, you would have a great idea as to how reliable he has been. 
The bottom line is that betting on the playoffs necessitates a little more in-depth goalie play analysis on the part of the bettor.
The Opposition
Recent experience playing against the opposition can be a good predictor of how a hockey player will perform. The sample size of games is most likely too small to be helpful in this situation, though.
For example, NHL teams only play opponents from the opposing conference once or twice a year. Division opponents play each other more often. This is enough for a strong sample size. 
When handicapping the playoffs, bettors add to the sample size each game. Don't forget, the betting public will often overemphasize this factor. They are blinded by recency bias a lot of the time. 
Savvy bettors know this and use it to their advantage.
Recent Playoff Results 
We talked about consistency, but in NHL handicapping, success is more important than consistency for a player. If a hockey team's goalie has not been performing at a high level, it can be challenging to trust them during the playoffs.
A team with goalie issues of any kind is unlikely to make it far in the postseason. Even if they do, they'll probably face difficult challenges. If one NHL goalie's performance is noticeably better than the other's, the NHL team with the better goaltending will almost certainly have an advantage in a series. 
Intimidation
Some NHL players can handle intense pressure. Some do not. Under pressure, even talented NHL goalies can struggle. 
Think back to the Stanley Cup Finals in 2011. Vancouver's Roberto Luongo had been one of the big reasons why the Canucks made it to the finals. Despite two 1-0 shutout victories, Luongo got beat 11 seconds into overtime in Game 2 and gave up eight goals in Game 3. In four games, he gave up four or more goals.  
If you have a better understanding of how a player in the net will respond under pressure, you can place your bets more confidently. 
The Matchup
A goalie in the playoffs will play against the same team for four to seven consecutive games. If he has previous success against that team, he might be in for a good series. If he has weaknesses that the opposing team can use against him, he could be in big trouble. 
It's critical for bettors to assess the matchup. One team may be exceptionally fast. Another may be great defensively. All of these things go into handicapping an NHL playoff game. 
The biggest part of that handicapping though is the goalie. How he responds is crucial to placing a bet.
Public Betting
The general public has a very high regard for some goalies. There are those that go unknown by the betting public. Just because he's not a recognizable name doesn't mean he won't play well. 
Goalies are comparable to quarterbacks in football or starting pitchers in baseball. The general public's perception of them is translated to how they perceive the entire team. When Tom Brady was in New England and in Tampa, public bettors loved to bet on the Patriots and Buccaneers. It's the same in hockey.
Teams with big name goalies often are backed heavily by the public. NHL bettors have to be wary of this since sportsbooks will often adjust odds as a result of the public.