Hedging the Final Leg of a Big Parlay and Other Tricks
April 21, 2014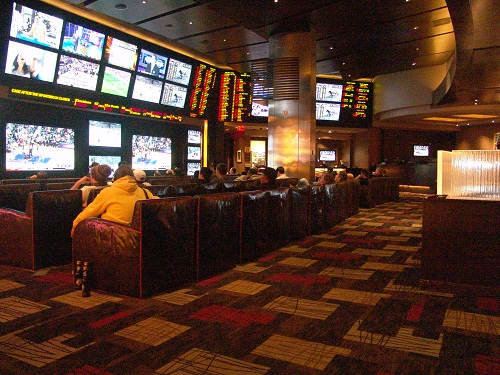 You placed a $100 wager on a 5-team parlay that pays out 25/1. You've won the first 4 games and are just one win away from a nice $2,500 payday. As exciting as this scenario seems, I'm going to be a bit of a Debbie Downer for a second. Assuming you're a decent sports bettor, the chances of you cashing in this ticket is only about 60%. That means 40% of the time, not only will you NOT take home that nice $2,500 paycheck, you won't go home with anything.
There is a solution, depending on your risk tolerance level. Once you're down to that final game, you may want to hedge your bet to guarantee you end up winning. Let's say the final game is the Chiefs versus the Jets. Kansas City is a 3.5-point favorite and you need them to cover in order to cap off a successful parlay. Your first option is to not do anything at this point and just hope Kansas City covers so you win the $2,500 ticket. Your second option is to bet against your parlay ticket by wagering on the Jets. In the sports betting world, we call that "hedging a bet".
Hedging a bet versus letting it ride
Naturally, gamblers are ballsy. We all want to win big, so the thought of hedging a bet, which limits the amount you can win, isn't too appealing. But is it a smart play to hedge a bet? It depends on which type of gambler you are. I liken not hedging a bet in the above scenario to letting it ride. If you don't hedge your bet after the 4th win, you're essentially letting it ride so that you can up the pay out to $2,500. But by hedging the bet, you are guaranteed to win regardless of the outcome of the game.
Here's the kicker. If you do bet against your parlay ticket and the Jets cover, your profits will be minimal. But so is the risk. Perhaps you read the story about the die-hard Auburn fan that placed a wager on the Tigers to win the 2014 national championship. Auburn was a long shot and this fan would have won $50,000 had Auburn beaten Florida State in the BCS championship game.
Prior to the game, this fan was advised by basically anyone with half a brain to hedge his bet by wagering on Florida State. He decided to let his loyalty to Auburn overcome logic and let it ride. As you probably know, Florida State won the game and this fan won absolutely nothing. Had he hedged his bet, he could have taken home $10,000 or so, depending on how much he decided to wager on Florida State to win. If the payout is massive, hedging your bet on the last leg of a parlay or a futures bet is a smart play.
How much to hedge
Let's go back to my first example. You're one leg away from a $2,400 profit ($2,500 payout – $100 bet). You're definitely going to want to make sure you win at least $500, one way or another. So you can't wager too much on the Jets at -3.5 (-110 odds ATS). I would wager $660 on the Jets. You're guaranteed to profit at least $500, that is if the Jets beat the spread ($1,260 winning ticket – $760 wagered). If the Chiefs cover, you profit $1,740 ($2,500 winning ticket – $760 wagered).
In this scenario, no matter what happens, I'm going home with a nice winning. Yes, I still want Kansas City to cover the spread because I'll win much more, but I'm still getting a decent amount if the Jets win. If I don't hedge my bet and the Jets beat the spread, I go home with nothing. My strategy is to hedge my bet to ensure I win a decent amount either way, but I still have the potential for a big win as well. If Kansas City covers, that $1,740 profit ain't too shabby. And if they don't, I'm going to get a nice consolation prize. Make sense?
But there is also that little voice in your head that will talk to you if you win the parlay that basically says "I could've had the whole enchilada, but my doubt cost me the full win." That's why I only suggest hedging on large payouts. If the payout is only two or three times your standard bet size, I say Let It Ride!
See why you should always use more than one sportsbook