Tips for Betting NFL Win Totals in 2021
April 15, 2021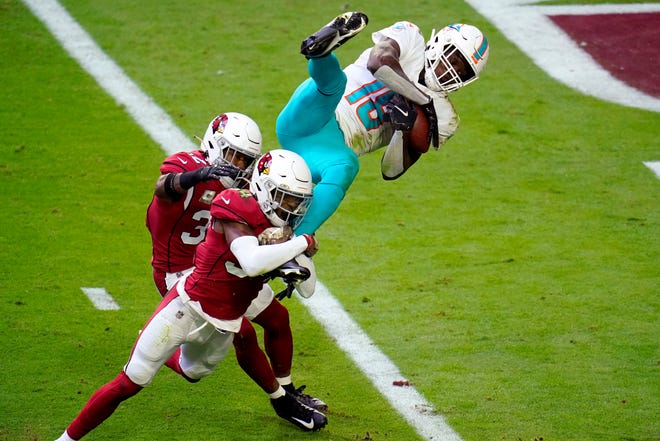 Over the past several years, the popularity of the season win total bet has increased. More and more, serious bettors have found the NFL win total market to be lucrative. Like betting in any futures market, there are advantages and disadvantages. Overall, betting NFL win totals in 2021 is just one more tool the savvy NFL bettor can use to come out ahead at the end of the season.
When betting win totals, it is not simply a matter of picking and choosing which team or teams you think will hit a certain number. As with any wager, the right research and analysis is necessary to make a solid betting decision.
How NFL Win Totals Betting Works
For a casual or inexperienced bettor, one of the great things about betting NFL season win totals is that it is a pretty easy concept to understand. Use the following example from the 2020 season.
Miami Dolphins Wins: 6
OVER: -135
UNDER: +125
If you believe the Dolphins will win more than six games, you would wager $135 to win $100. Betting on Miami to win fewer than six games would pay out $125 on a $100 bet. If Miami had won six games – they won 10 – the result would have been a push.
SEE 2021 NFL TEAM WIN TOTALS HERE
Historical Perspective
To begin your analysis of a given team or teams, it helps to gain some historical perspective. Start with a look at previous seasons. Some teams consistently win double-digit games like the Kansas City Chiefs who have won 10 or more games in each of the past six seasons. Similarly, the New Orleans Saints have won at least 11 games in each of the past four seasons.
Remember though, rosters change and those changes can have an effect on a season's win totals. Take the Patriots first season in two decades without Tom Brady. New England, which had 17 consecutive seasons of double-digit victories ended up 7-9. The team Brady ended up with, Tampa Bay, went from 7-9 in 2019 to 11-5 and won a Super Bowl.
The Offseason Effect
Just looking at past seasons will not give you enough to make a sound decision on a win total. Rosters turnover and change just like that of the Buccaneers last year. Tampa Bay brought in Brady, his former Patriots teammate Rob Gronkowski, and they signed RB Leonard Fournette.
Heading into 2021, the New Orleans Saints will surely be a different team offensively without future Hall of Fame quarterback Drew Brees under center. The various moves made by teams in the offseason will have an effect on how well or how poorly a team plays in the coming season.
Strength of Schedule
One of the most important factors to research regarding win totals in a given season is the strength of a team's schedule. A strong team playing in a weak division can often count on five or six wins just from its division games. Take the Brady-era Patriots as an example. For several years, Buffalo, Miami, and the New York Jets were mediocre to sub-par NFL teams. In the final five years of Brady's tenure as the Patriots quarterback, New England went 4-2 in 2015 and 5-1 in each of the next four seasons.
How many games will a team play against playoff-caliber teams? Are any of those games on the road? Bettors should also be looking to see if teams have a rest advantage or disadvantage before certain games.
Using last year's Miami team as an example again, we would see that they would have two games against the Jets. They also had the Bengals, Chargers, Raiders, and Broncos on the schedule. That would appear to be enough to get to six wins. There was also the crossover with the NFC West. Before the season, you would certainly think the Dolphins might have a chance against Arizona. Who would have thought Miami would beat the entire division? Regardless, a long look at a team's schedule strength can help a bettor make a sound decision on win totals.
Timing
Some of a bettor's success on NFL win totals is simply timing. Pulling the trigger on a certain bet can make a big difference in the size of the payday. Take Tampa Bay as an example. Prior to the Brady signing, the Bucs were found at +2000 or longer to win the Super Bowl. Once Brady was signed those odds dropped to +1400. As the season progressed, the Bucs' odds got shorter and shorter.
It's the same with win totals. Keep in mind that early lines may offer more value because sportsbooks have limited information. As you move through the offseason, sportsbooks – and yourself – will gain more valuable information. Simply knowing when to place your bet can make a huge difference in your payout. Keep this in mind as you plan your 2021 NFL season win totals betting.
SEE 2021 NFL TEAM WIN TOTALS HERE