Michigan Football Preview 2022
August 2, 2022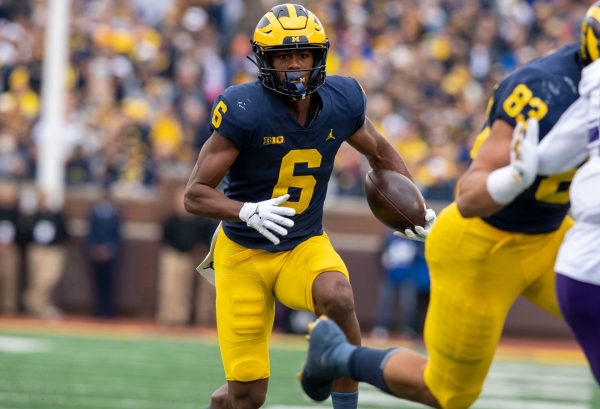 Coach Jim Harbaugh is back for his 8th season as head coach after what is most definitely his most successful campaign at Michigan. He was able to beat Ohio State and lead his Wolverines to a 12-2 record overall including an 8-1 record in the Big Ten. They also made an appearance in the college football playoffs (the Final Four of college football).
Players
It is expected that Cade McNamara will win the starting job at QB again but he is being challenged by J.J. McCarthy. Three starting offensive linemen return this year. In the backfield Blake Corum returns to lead the way. He fell just short of 1,000 yards rushing last season.
Back at WR is top receiver Ronny Bell. He missed most of last season with an injury. Cornelius Johnson also returns and brings with him 40 catches, 627 yards, three TDs.
On defense Michigan must replace their two leading rushers in Aiden Hutchinson and David Ojabo. The LB corps has some good returning players Junior Colson and Nikhai Hill-Green both got plenty of snaps last season.
There will be three new starters in the defensive backfield. Rod Moore & R.J. Moten are ready to step up and fill the safety positions. Overall this defense should be pretty good but there are a few question marks.
2022 Michigan Football Schedule
Week 1, Sept. 3 vs. Colorado State – This should be a good warm-up game. Michigan is -27.5 at SBAodds.com
Week 2, Sept. 10 vs. Hawaii – Michigan will be huge favorites in this one. No sweat.
Week 3, Sept. 17 vs. Connecticut – Michigan goes to 3-0 and wins by a ton of points.
Week 4, Sept. 24 vs. Maryland – The first test for the season for Michigan. Maryland was 7-6 last year and have Tua's brother back under center. Mich should win by 14 though.
Week 5, Oct. 1 at Iowa – This game or the Penn State game Michigan will drop. They will have a blemish on their calendar by the end of the season.
Week 6, Oct. 8 at Indiana – Should be an easy win for the Wolverines.
Week 7, Oct. 15 vs. Penn State – If Michigan beat Iowa two weeks ago, bet PSU to win this one straight up.
Week 8, Oct. 22 Idle
Week 9, Oct. 29 vs. Michigan State – Michigan gets the win in a scrappy, possibly low-scoring affair.
Week 10, Nov. 5 at Rutgers – Rutgers has talent but Michigan has more.
Week 11, Nov. 12 vs. Nebraska – Nebraska will be tough but Michigan should be able to pull out the win.
Week 12, Nov. 19 vs. Illinois – Illinois is simply outgunned and outcoached here. Michigan wins by 21.
Week 13, Nov. 26 at Ohio State – The true test of the season. If Michigan is undefeated coming into this one, take OSU moneyline. If Michigan has a loss on their record, take Michigan plus the points.
Dec. 3 Big Ten Championship Game
Conclusion and Betting
The 2022 season should be an exciting one for Wolverine fans. I would definitely warn of a early to mid-season let down which will let the air out of the bag. But Michigan will have a chance to claw their way back and be in the playoff discussion by mid-November.
The total wins over under is 9.5 for Michigan. I think they should be able to end the regular season with 1 loss and no more than two. Bet the Over.
National championship odds for Michigan are +5000. That is a pretty handsome payout if you think Michigan is up to the task.