Arizona State 2022 Football Preview
August 6, 2022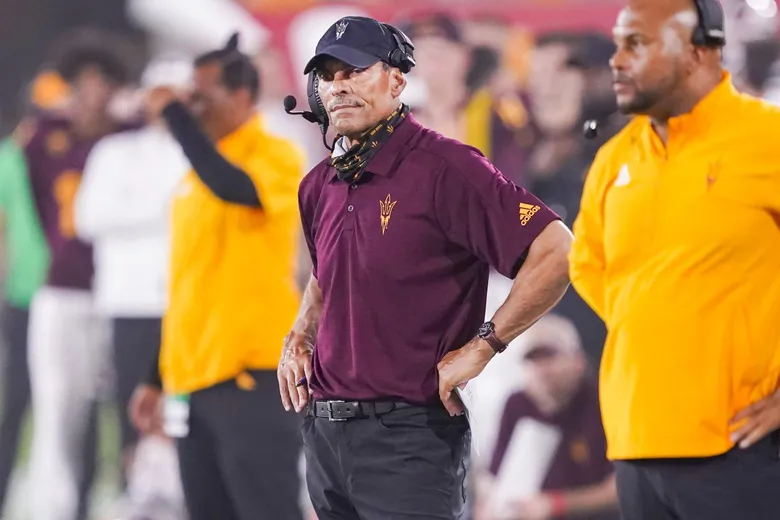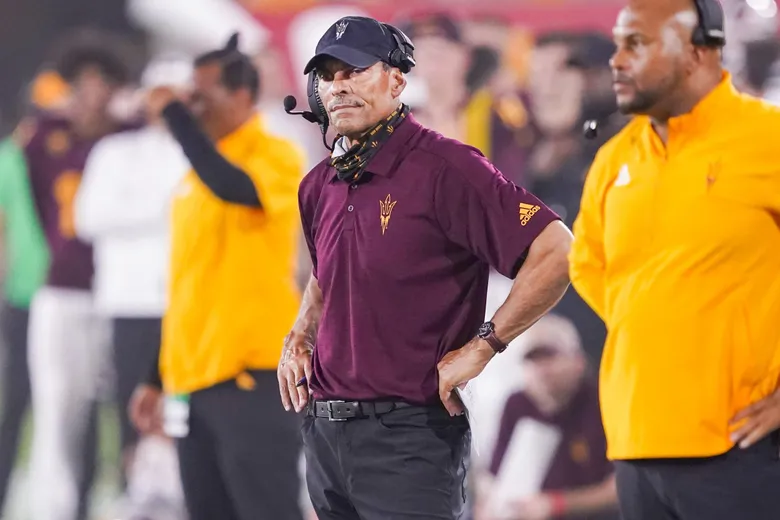 Herm Edwards is back in his fifth season coaching the Sun Devils. His team went 8-5 last year including 6-3 in conference. Unfortunately for Edwards he lost a lot of players from that team. Can he put together a team that is competitive in 2022? "You play to win the game… Hello.." That is Edwards's famous quote. How many win will he get? Is this his last season at ASU?
Arizona State Players
QB Jayden Daniels transferred to LSU. Leading RB Rachaad White got drafted by the NFL. Also gone are ASU's top two receivers as well as their best O lineman. ASU addressed these departures with some transfers of their own. FL Gator QB Emory Jones transferred in. And so did Alabama backup QB Paul Tyson. Wyoming transfer Xazavian Valladay will fill the RB void. He is a 6′ 200 lb. RB that rushed for over 1,000 yards and 6 TD's. UPDATE: 8/19/22 – ASU Names Emory Jones Starting QB
Defensively, ASU lost some key players to draft and transfer. But several of their key players are back as well. LB Merlin Robertson will lead the backfield this season. Plus, ASU gets Mississippi State's Rodney Groce in a transfer move. He is a player with a ton of potential and should finally get to start at the college level.
The defense picked off 16 passes last season, among the best in Pac-12. Defense should be pretty solid this year, stepping up when they need to most.
2022 Arizona State Football Schedule
Week 1: Northern Arizona – ASU should be able to win this one convincingly.
Week 2: at Oklahoma State – OSU on the road will prove to be a little too tough for the Devils.
Week 3: Eastern Michigan – Eastern Michigan at home will put up a fight but lose handily in the end.
Week 4: Utah – Tough game against a tough team. Having Utah at home is a benefit but they may prove to be too good to beat.
Week 5: at USC – Another very tough one. USC now has Lincoln Riley and his QB from Oklahoma. They will probably beat ASU here.
Week 6: Washington – Arizona State should get this win.
Week 7: BYE
Week 8: at Stanford – We think ASU may drop this one to Stanford on the road.
Week 9: at Colorado – Herm Edwards and team should pick up this road win but don't be terribly shocked if they cannot.
Week 10: UCLA – Chip Kelly's Bruins are in a win-or-else situation. We think ASU gets this win at home.
Week 11: at Washington State – Washington State is less talented than ASU and should lose this one.
Week 12: Oregon State – The Beavers will put up a tough fight but ultimately lose to ASU.
Week 13: at Arizona – In state rivals are a pain. Arizona knows how to push ASU's buttons. But ASU will win their sixth in a row against an inferior Wildcat team.
Conclusions & Predictions
We can see this team repeating last year's 8-4 record. They have just enough talent and coaching to beat all the mediocre and less-than-mediocre teams (except one) on their schedule while losing to the good teams. The college football total wins sheet has ASU at 5.5 wins. The over seems like a really good play here.
Evereygame.eu has ASU at +15000 to win the national title but better odds are being offered at SportsBetting.ag – twice better odds in fact at +30000. It ain't gonna happen but if you are a fan and want a shot at that dream payout then bet the Sun Devils to win it all!