Notre Dame Football Preview for 2022
August 15, 2022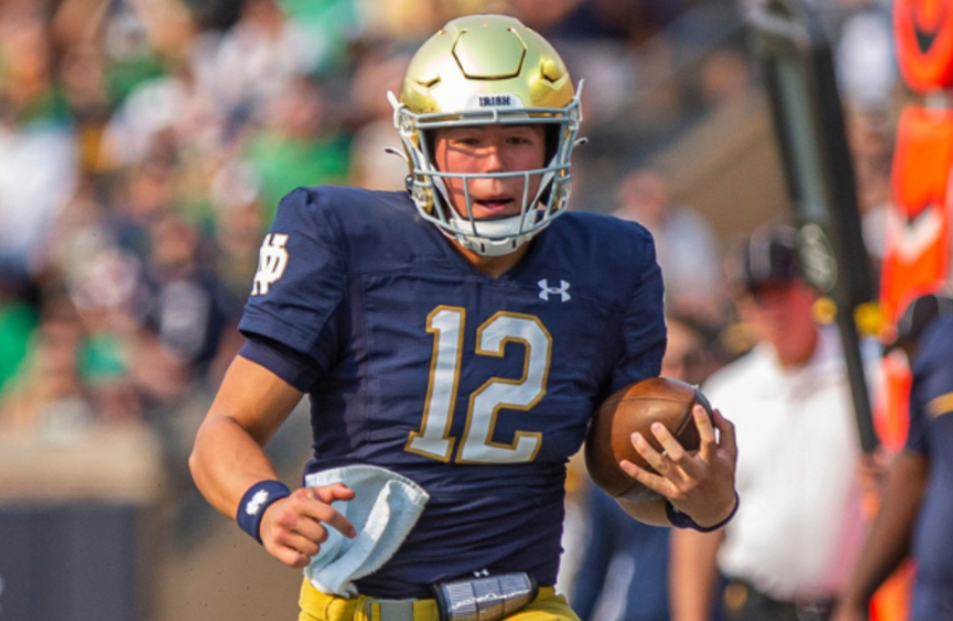 The official pre-season polls were released today and there are no major surprises. Notre Dame is currently ranked #5. For us, Notre Dame is the most overrated team in the country. Marcus Freeman is the new head coach. Actually he has coached one game for the Irish, a Bowl Game loss at the end of last season after Coach Brian Kelly announced he was leaving for LSU. In that game Notre Dame blew a 21 point lead to lose to Oklahoma State in the Fiesta Bowl.
Notre Dame Players Preview for 2022
Tyler Buchner gets the starting nod at QB for the Irish this season. He is unproven and his limited stat line is not good. He has thrown for 298 yards , 3 TD's and 3 INT's. The top receivers from last season are gone.
The Irish are also losing their two-time 1,000-yard rusher Kyren Williams to the NFL draft. There is no clear-cut established back in the backfield.
The offensive line play was weak at times last season and in spite of their inability to protect the QB the team still ended 2021 with an 11-2 record. They are expected to be a better, more cohesive unit this year.
Defensively, the linebackers and DL should be fine but the secondary is a problem of great concern. Last year they rated just 64th in the country and have lost top player Kyle Hamilton from that squad.
2022 Notre Dame Schedule and Predictions
Week 1, Sept. 3 at Ohio State – The Irish have no shot at winning this game in our opinion. They are underdogs by 14.5 points. There is no reason the #5 team in the country should be 2 TD underdogs to the #2 team in the country unless they are overrated. This exact matchup and line reinforce our thoughts.
Week 2, Sept. 10 vs. Marshall – Marshall will lose this one and it shouldn't be that close. ND will win by 17 – 24 points.
Week 3, Sept. 17 vs. California – Cal doesn't have what it takes to beat N.D. in South Bend. But if the spread is blown out of proportion take Cal. Take Cal at +20 or better.
Week 4, Sept. 24 at North Carolina – ND leads this series with an amazing 20-1 W/L advantage. Take UNC for the straight up upset win.
Week 5, Oct. 1 Idle
Week 6, Oct. 8 vs. BYU (Las Vegas) – Another let down for the Irish as they lose to a tough BYU team at a neutral location.
Week 7, Oct. 15 vs. Stanford – Stanford will play tough but will most likely to lose to a more skilled ND team. I wouldn't bet on it however.
Week 8, Oct. 22 vs. UNLV – UNLV is bad. They are JV level football. Notre Dame should get a really easy feel-good win here.
Week 9, Oct. 29 at Syracuse – Like we mentioned in the UVA preview, the 'Cuse are returning 80% of their offensive production from 2021. This is a team that beat Va. Tech, BC and only lost to Clemson by 3. Notre Dame could drop this game. Bet on the 'Cuse plus the points.
Week 10, Nov. 5 vs. Clemson – Notre Dame will step up to the challenge and play admirably. Clemson should be pretty heavy favorites by this time in the season. Take N.D. + 7.5 or greater.
Week 11, Nov. 12 vs. Navy – Navy always plays N.D. tough. The Irish will be favored by more than a FG but less than a TD. Impossible to predict the outcome at this juncture.
Week 12, Nov. 19 vs. Boston College – B.C. always plays pretty tough football. But they are in South Bend and Notre Dame is deeper. The Irish should win pretty convincingly, by say.. 13 points.
Week 13, Nov. 26 at USC – This one is not going to go Notre Dame's way. USC is rebuilding and fast. Lincoln Riley brings in his star QB and some others players to change the culture in Southern California. USC gets this win.
Conclusion and Prognostication
The 2022 Notre Dame season will be a let down for fans and backers. There simply isn't enough reason to have this team ranked in the top 10. They will suffer because of the following deficiencies:
Inexperience with new head coach
Lack of experienced players at offense skill positions
Weak defensive secondary
The college football total win over/under odds are set at 9.5 wins for Notre Dame. The under is a slam dunk. The Irish could potential finish the regular season with a .500 record. It won't be pretty.
You can bet Notre Dame to win the national title at +4000 odds at most top ranked sportsbooks but we think that would be wasted money. No chance.