Here is How Much Mattress Mack Bet on the Astros to Win it All
November 3, 2022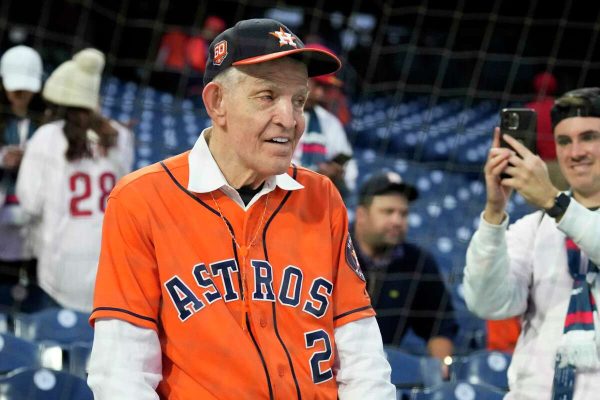 On Tuesday night, Jim McIngvale, better known as "Mattress Mack," was feeling a bit dejected. His Houston Astros had just lost to the Philadelphia Phillies in Game 3 of the 2022 MLB World Series. McIngvale loves his Astros and loves them so much that he placed a total of $10 million worth of bets on his hometown team.
With the Astros combined no-hitter in Game 4, Mattress Mack is back. The series is knotted at two games apiece with one more game to be played in Philadelphia on Thursday night. Game 6 – and Game 7 if necessary – will be played back in Houston at Minute Maid Park where the Astros went 55-26 during the regular season and are 5-1 during the postseason.
Mack is no stranger to sports betting. His legend lives on with this year's World Series. His largest bet was placed back in May. Mack put down $3 million on Houston to win at 10-1 odds. The bet was placed at Caesars Sportsbook and if the Astros win, McIngvale will collect $30 million.
The payout on that bet alone will be more than enough to cover Mattress Mack's latest promotion. His Gallery Furniture retail chain is currently running a special for customers that spend over $3,000. If the Astros win the World Series, their purchases will be free. If the Astros lose, McIngvale will be out $10 million anyway.
While the $3 million wager is the largest on this year's series, McIngvale has some other pretty large bets out there as well. Here's a rundown of his $10 million in World Series wagers.
BetMGM – $2 million at 5-1 (pays out $10 million)

Barstool – $2 million at 5-1 (pays out $10 million)

Unibet – $1 million at 5-1 (pays out $5 million)

WynnBet – $1 million at 12-1 (pays out $12 million)

BetFred – $1 million at 5-1 (pays out $5 million)
If the Astros win, McIngvale will collect in the neighborhood of $75 million, which is believed to be the largest recorded total in sports betting history. His winnings will then cover Gallery Furniture's current promotion. 
"We're at about $73 million," McIngvale said after cutting off the promotion on Monday. Sunday and Monday were the two busiest days Gallery Furniture has ever had. McIngvale won't net much, if any, should the Astros win. He's not concerned though as he's in the business of pleasing customers. 
He's also had a long history of pleasing sportsbooks. Last year, with the NFL season winding to a close, Mack put $700K on the Tennessee Titans to win the Super Bowl. The No. 1-seeded Titans got bounced in their first playoff game.
Also last year, Mack backed Alabama to win the CFP national championship. In the end, he wound up losing over $6 million as Georgia took the title. Before he lost $1 million on the 2022 Kentucky Derby, McIngvale took a couple swings at March Madness. 
With Baylor and Texas both in the East Region, McIngvale put down $1 million on a team from the East to win the tournament. North Carolina, of course, upset Baylor and made it to the final. Before that though, Mack bet $3.3 million on Kansas at +190 to win it all. When the Jayhawks won, McIngvale collected $6.27 million. 
See Also: Mattress Mack's Betting Record
Mattress Mack says Phillies have 'worst fans ever'
See a Brief Video All About Mattress Mack's Rise from a $5,000 Start Up to a Mega Furniture Retailer